Bright idea: LED magnifying lamps
31-08-2010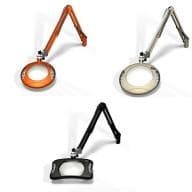 Let there be light … new Green-Lite series magnifying lamps
O.C. White has launched its new Made in the USA range of all-metal, LED magnifying lamps.
Available from Bondline Static Control Solutions, the new ESD safe Green-Lite series feature rugged construction with long reach and strong springs. 
Thick, "green looking" lenses are now a thing of the past. Green-Lite lamps have clear optical grade 4 Diopter (2x) that meet IPC-A-610E.
The long life, high-output white LEDs (not off-white or yellow) are not only switchable. They allow the choice of lighting angle and are dimmable (5-100 per cent), with up to 4x the lumen out-put of bulbs and tubes.   
Energy efficient LED Green-Lite lamps offer significant cost savings, with ongoing savings on power bills – further enhanced with an auto turn-off option at 4 hours as standard.
The lamps are available in three sizes – 1 x Rectangular - 178mm (7") x 133mm (5.25") and 2 x Round – 190mm (7.5") diameter & 152mm (6") diameter.
You can choose from a wide variety of colors, including carbon black, silver, medical white, vibrant red, yellow, green and blue.
All models are available with screw-down, table-edge clamp or weighted base fixing.
An Ultraviolet/White LED Combination Rectangular Magnifying Lamp is also available with three modes of operation – combination, ultraviolet only or white LED only.
Bondline Static Control Solutions Pty Ltd
Ph: 02 9757 3590