Brierley Hose to the Rescue
18-01-2013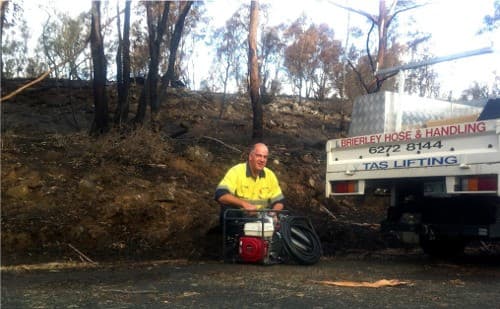 Brierley Hose Service Manager Carl Bresnehan delivering a fire pump kit to a customer in South East Tasmania.


Unexpected catastrophic fires sweeping Tasmania over the last couple of weeks have caught many home owners flat footed. One local Hobart based company, Brierley Hose, took emergency action, pulling in stocks of Aussie fire pumps and fire fighting hose kits by express transport.

Brierley Hose is an authorised Aussie Pump distributor and handles the full range of their top quality fire and transfer pumps. "When home or farm owners are trying to save their property, what counts is having the right gear," said John Brierley. "We chose the Aussie Pump range because the products are simply better than other pumps. They perform better, last longer and come with a unique 5 year warranty," he said.  

The best news for consumers is that Aussie Pump's top quality product is available at extremely competitive prices compared to other common brands.

The most popular Aussie Pump model is the Fire Chief. This is a purpose designed portable high pressure fire fighting pump, regarded as the world's best. Standard version has a powerful Honda 5.5hp industrial petrol engine. Honda engines start first time, every time. That engine, backed by Honda's 3 year warranty program, is supported by Honda dealers throughout Australia for both in and out of warranty service.  

The Chief is particularly suitable for Australian conditions because of its unique pressure to flow characteristics. "It simply delivers more water at high head than others, making it the most effective light portable fire pump!" said John Brierley.

A huge 7'' superbly balanced impeller, delivers a whopping 100psi pressure (that's the equivalent of 75 metres of vertical head lift), without straining the pump or the engine. "Tests clearly show that the Fire Chief delivers its high pressure without overloading the engine. Other pumps lose their RPM when put under load. Not the Aussie Fire Chief," said Brierley.

Customers also like the way the pump is mounted on a heavy duty steel skid with anti-vibration mounts. That reduction in vibration dramatically extends pump longevity and at the same time provides a stable base for the unit to operate from. The pump comes with a huge big belly body that enables it to hold more water. This allows it to prime first time, every time.  

Australian Pump claim this is a huge advantage, particularly in fire fighting, where time can be of the essence. The top quality mechanical seal, featuring a ceramic hardened face and Buna Nitrile elastomers, lasts longer than cheap third world seals and eliminates issues with leaks or lack of prime.

"The big 2" flanged suction port gets more water into the pump. That simple feature dramatically aids water flow and ensures fast priming," said John Brierley. Higher pressure twin impeller versions of the Aussie Fire Chief are also available. These deliver even better performance with higher pressures and superior flows. These pumps are available with big Honda 9hp and 13hp petrol engines, or Yanmar 10hp diesel drives.  

"Aussie won't under-power their pumps like some manufacturers do," said Brierley. "The Aussie specifications are completely believable and all pumps are match tested by engine manufacturers to ensure that engines aren't overloaded, even at top performance," he said.

Australian Pump Industries, who operate from a 2 ½ acre factory complex in the boutique Norwest business district, claim diesel engines are intrinsically safer to operate in a fire than petrol drive equivalent in a fire emergency. This view is supported by fire fighting authorities and diesel engine manufacturers. Diesel fuel is less volatile than petrol and is subsequently safer to use in an ember filled environment.

Brierley's have rushed shipments of Aussie petrol and diesel drive fire pumps to Hobart and are selling these units, not only through the head office, but also through branches around the state.

Further information, including free catalogues, performance data and complete pump hose packages, are readily available by contacting Brierley Hose, Ph: 03 6272 8144.