Published 23-05-2019
| Article appears in June 2019 Issue
BRIDGE CRANE GOES ROUND THE BEND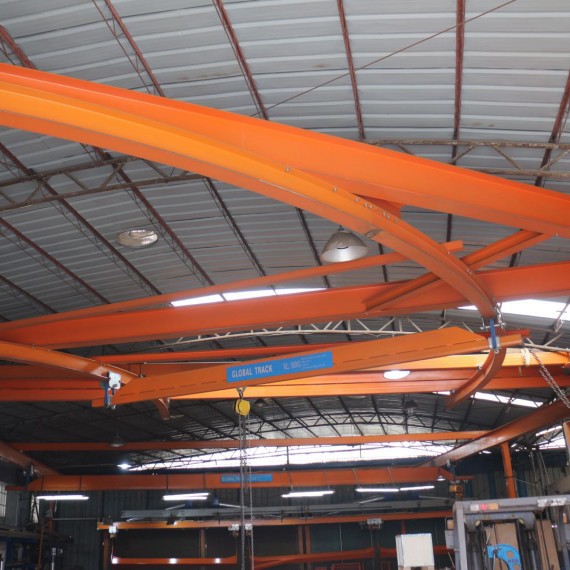 Not content with creating a world's first with its revolutionary pivot system, bridge crane specialist Global Track can now send loads round the bend… literally. The company has further developed its manual bridge crane design with a prototype in its R&D facility that runs on a curved track.
The ergonomic design of the Global Track pivotal crane system developed by company founder Greg McKay features a pivotal bearing and levered swinging U-hanger. This means that the load of the crane is applied between the pivot points, creating a lever reaction that reduces the operator effort required to move the load.
McKay had always considered that the design could potentially be used for curved tracks as well as straight lines, but realised that the curve would increase the frictional resistance, and hence increase the operator effort required.
However, he says that his latest patented development overcomes that frictional restriction, and will also improve the performance of the company's straight-running bridge cranes.
Indeed, the new generation cranes typically require just 6kg of force to move a 1000kg load along either a straight or curved track. And in extensive testing in the Global Track factory, a 800kg load has been moved with as little as 3.23kg effort. What's more, the motive force can be applied anywhere across the bridge to produce smooth movement along the track.
The radial crane can be built within the span range currently offered by Global Track (up to 15m span) and with a curve radius from 1 to 15m.
The radial crane system is likely to find some interesting applications, particularly in confined facilities where materials and assemblies need to change direction within a production process. It could also potentially replace secondary handling equipment, such as forklifts, when transferring from one line to another.
Global Track Australia
03 5275 3252
www.globaltrackaustralia.com.au