BREWERY HOPS TO COST SAVINGS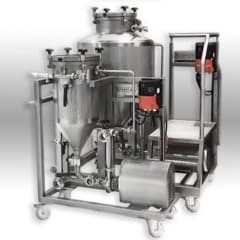 The use of dry hopping techniques is on the rise, largely due to increasing demand for enhanced aromas and flavours in craft beers. German brewing equipment manufacturer Rolec GmbH has been quick to recognise this trend, developing innovative systems for implementing dry hopping in the brewhouse and cellar, with the additional option of using either whole hop flowers or hop pellets.
The Mondo Brewing Company in Battersea, London was founded by Todd Matteson and Thomas Palmer, who started as homebrewers in the mid-2000s when the craft beer scene in the UK was in its infancy. The pair created their first Mondo beer at Battersea in March 2015, and upgraded to a 2000L brewhouse in December 2017.
The company has a policy of investing in the latest technology, and has acquired a Rolec Hopnik, an innovative dry hop dosing system, which saves 500g of hops per batch of beer. It has achieved a return on its investment in just four months, partly due to the expensive hops that it uses, which include the citrus and pine-based hop aromas from the US Pacific Northwest, as well as those from Australia and New Zealand.
The mobility of the Hopnik is another huge benefit to the company, which has a number of tanks. The ability to simply roll the machine up to a tank and connect easily and hygienically is of enormous value.
Rolec and its sister company Comac SrL are owned by CFT Group, which has a long history supplying canning, bottling and kegging solutions from 500 to 10,000L to the global beer market, with multiple installations in Australia, New Zealand and the Pacific. CFT Group is represented in Oceania by HBM Plastics & Packaging Technologies.
HBM Plastics & Packaging Technologies
02 8814 3100
www.hbm.com.au