BREVINI'S NEW PROPORTIONAL DIRECTIONAL VALVE FOR LARGE FLOWS
26-05-2015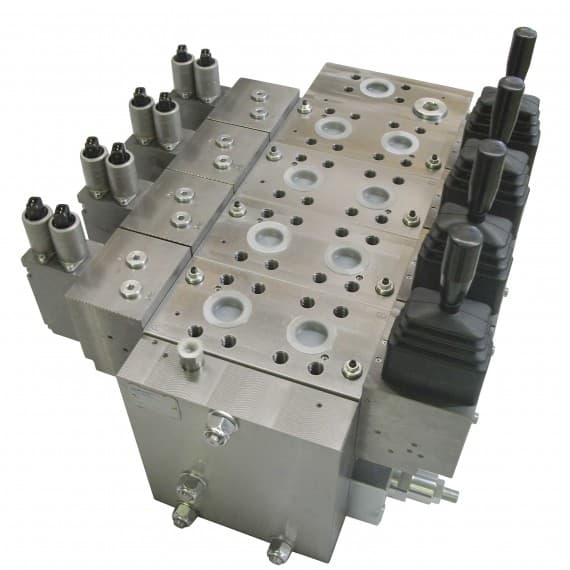 Applications with large hydraulic fluid flows found in mining, marine, drilling, cranes and winching applications are ideal platforms for the new HPV 310 proportional directional valve from Brevini Australia.
Developed by Brevini Fluid Power in 2011, released in Europe in 2014, after extensive prototype testing, the valve is now available in Australia.
The HPV 310 proportional directional valve is rated at 600lpm and 400 Bar and can be specified to operate with load sensing or constant pressure variable displacement pumps pumps.
For circuits requiring less than 180lpm, the HPV310 can be supplied with HFLS mid inlet section, to allow hybrid assembling with Brevity's other proportional directional valves, the HPV77, 220lpm or HPV41, 140lpm valves.
All inlet sections include a pressure relief valve and low pressure pilot port.
The valve operates on mineral oil and environmentally friendly oils, however it can also be used with phosphorous esters (HFDR), water glycol (HFC) or water-oil (HFB), subject to Brevini Technical Department approval.
The HDRM manual actuation control lever set up, featuring mechanical over hydraulic piloting ensures minimal operator effort is required to shift the 600lpm spools.
The HDRM has the lever directly connected to two pressure reducing valves which then hydraulically pilot the spool movement, based on the manual lever's position.
Other pilot controls available are electrical on/off and proportional solenoid, PWM and central hydraulic pilot.
Having LS A & LS B pressure compensators, LS unloading solenoid valves, and A & B port shock valves, ensure the valve can offer the performance and protection required of any application.
Other features include: manual, hydraulic and electrical pilot controls for user versatility; high repeatability accuracy and low hysteresis.
Brevini Australia Pty Ltd                                             
Ph: 1300 657 771