Breathe safely with a Honeywell disposable respirator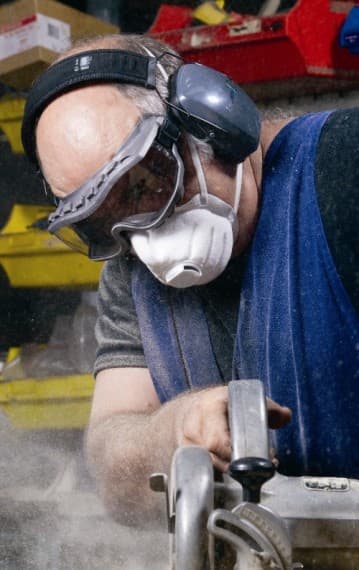 Top protection … the Honeywell Superone Respirator
Honeywell Safety Products, a leading provider of safety and protective products, ensures breathing is easy with their range of quality disposable respiratory masks.

Approved for 10 times the exposure standard of dusts produced by grinding and drilling, as well as certain applications of brazing and welding, Honeywell disposable respiratory masks offer premium protection, while providing maximum comfort.

With no restriction of vision or communication, the disposable masks enable you to work safely and efficiently and are designed to fit in combination with eyewear.

Low breathing resistance encourages longer wear time by improving the wearer's comfort, while the humidity resistant and hypoallergenic filter ensure maximum respirator service life.

Honeywell respirators feature durable, latex-free suspension straps to eliminate pre-stretching and have a flame retardant outer shell that ensures greater safety.

Made from quality materials, Honeywell disposable masks demonstrate resistance to clogging and protect you and the environment.

All Honeywell disposable respirators are latex, silicone and PVC free making them suitable for use for all workers, without the worry of possible allergies and are certified to AS/NZS 1716:2003 standards.

The extensive range includes the 5261 Nuisance Odour Respirator, the ideal protector against nuisance level acid gases and odours.

With a strong polyester outershell, the 5261 features an exhalation valve which allows the wearer to remain comfortable in hot or humid workplaces.
The 5261 also features a Willtech boomerang nose seal, which provides the wearer with increased comfort so they can work for longer periods of time.
Honeywell's 5211 Premium Welding Respirator is recommended for use with particulate aerosols free of oil. The 5211 has a full feature premium cup shape for P2 protection.
Like the 5261, the 5211 has a Willtech boomerang nose seal and an exhalation valve which increases wearer comfort in hot or humid workplaces.
Both respirators have a shelf life of three years from the date of manufacture.
Individually packaged, the 4211 and 4210 Flatfold  Respirators have a fold and hold mechanism to prevent contamination between uses and allows for easy storage.
With no staples, the respirators are ideal for use in the food industry and have a shelf life of 5 years from the date of manufacture.
Fitted with a half-face seal to ensure excellent fit and leak tightness, Honeywell's Superone Respirator is ideal to use with particulate aeresols free from oil.
The Superone Respirator also provides protection against dust and mists and dusts, mists and fumes and features an inner valve for increased comfort in hot working environments.

Honeywell Safety Products
Ph: 1300 139 166
www.honeywellsafety.com