Breathe easy with new Optrel respirator
31-08-2010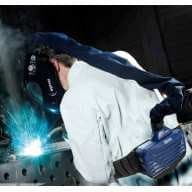 Optrel's e3000 Powered Air Purifying Respirator (PAPR) unit is designed for harsh working conditions that require a comfortable, high performing air purifying respirator system. 
The cost effective e3000 provides maximum protection from smoke, dust, and vapors. 
It delivers increased safety, better comfort and enhanced productivity – at an affordable price.
The e3000 allows continuous monitoring of the airflow by means of an integrated sensor throughout the entire welding process. 
The ideal combination of a PAPR with the high-end e680 helmet offers the highest protection class with approval to AS/NZS 1337 & AS/NZS 1338 and ASNZS 1716 for P3 protection and has all the prerequisites for increased safety.
With the adjustable three-level air flow of 150 to 250l/min effective cooling is achieved even at most extreme ambient conditions. 
There is constant airflow due to the smart sensor-controlled electronics and variable adjustments of the airflow between forehead and respiratory area increasing comfort levels to the max. The smart ventilation system helps increase concentration on the job at hand with reduced fatigue, leading to the most accurate and high quality welding.
And highly efficient battery management provides an operating time up to 20 hours (with a long life battery).
This means the welding process can be stretched out to two shifts continuously without interruptions, which represents a much more effective working time for the welder and supports increased productivity levels.
Honeywell Safety Products
Ph: 1300 139 166