Breath of fresh air with Nilfisk
08-02-2012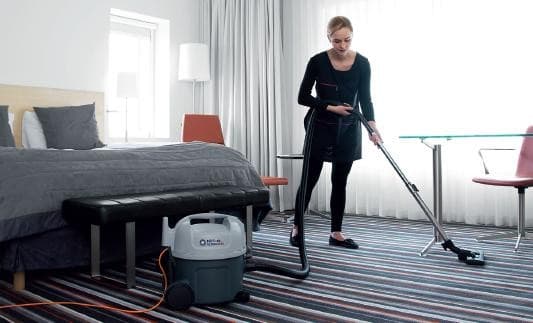 Nilfisk-Advance, a leader in professional cleaning equipment, has introduced a new light to medium duty vacuum with a certified HEPA filter.
The Nilfisk VP300 HEPA is the latest member of the Nilfisk series of basic commercial vacuum cleaners.
It is suitable for everyday cleaning of light to medium duty applications such as offices, hotel rooms and retail stores.
The unique feature of VP300 HEPA is the strong filtration combined with the cleaning capacity of 1200w motor.
The HEPA filter ensures a higher quality of air is maintained within the cleaning environment. And the 1200w motor provides an exceptional and efficient cleaning performance.
With a sound pressure of just 50 dB(A), it makes this vacuum suitable for daytime cleaning of offices, reception areas, hospitals and other noise-sensitive areas, as it causes minimum disturbance to people who are within the cleaning vicinity.
Nilfisk-Advance has a century of experience in vacuum cleaner design, and has used this knowledge to fully utilize this lightweight, compact and exceptionally handy machine to meet its customer needs.
Weighing only 5.3kg it is easy and safe to carry and manoeuvre.
Features include an accessories holder, power cord storage and tool parking.
Also, an ergonomic handle enables the operator to carry the complete vacuum cleaner in one hand.
To help with easy maintenance and to maximise safety, an orange detachable power cord is included as standard.
Nilfisk-Advance Pty Ltd
Ph: 02 9834 8176
www.nilfisk.com.au