BREAKING NEWS: Ford to shutdown its operation in Australia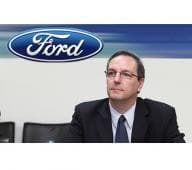 Ford Australia has announced it will close its Broadmeadows and Geelong production facilities in October 2016, with at least 1200 jobs to made redundant.
At a press conference in Melbourne today Ford Australia president and CEO Bob Graziano said it was no longer viable for the company to manufacture in Australia.
The cost of manufacturing a vehicle in Australia was twice as much as in Europe and four times the cost of Asia, he said.
"As you know the Australian manufacturing industry has been facing challenging conditions," he said. "In light of that we will cease our manufacturing in October 2016. "Approximately 1200 jobs in Broadmeadows and Geelong will become redundant."
Mr Graziano said the company would continue to manufacture the Falcon, Territory and Falcon Ute during the next three years.
It would also offer other products, such as the Ford Kuga, Ranger and Focus.
"The company will also strengthen its product lineup even further with a 30 per cent increase in the number of new vehicles offered to Australian customers by 2016, he said
"Ford's presence in Australia will remain significant – with 1500 team members, more than 200 dealers nationwide and a continued strong commitment to supporting the communities in which the company operates."
Mr Graziano said Ford management would continue to work with its workers during the transitional phase.
"This decision was not made lightly, he said. ""We understand the very real impact."
Ford Australia employs about 3100 people in Broadmeadows, Geelong and its five regional offices.
The company also announced operating losses of $141 million after tax, with total losses of more than $600 million over the past five years. 
"Today's announcement is challenging for the Ford team ... we are confident about Ford's future in Australia," Graziano said.
"Ford vehicles have been part of the automotive landscape in Australia for almost 110 years and we have manufactured here since 1925. We are proud of that history."
Treasurer Wayne Swan promised the "government will do everything within our power to support workers and local communities that may be affected by a decision taken by Ford".
Acting Industry Minister Craig Emerson said ensuring workers and their families in affected communities were looked after was a "top priority".
"Workers need to be given every opportunity to find new jobs and regional economies and communities need to be assisted in securing new investment and employment opportunities,'' Mr Emerson said.
The locally-produced Ford Falcon has been in sales freefall for the last decade. In 2002, the Falcon sedan and wagon accounted for 54,629 sales locally, while last year that number had dropped to just 14,026.