Bradman Lake take the chill out of packaging
14-08-2015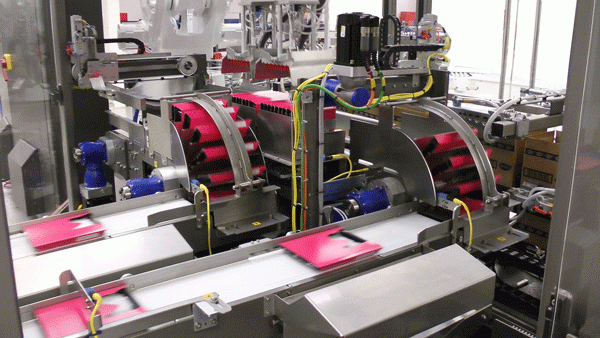 The Bradman Lake Group (BLG) of Suffolk, UK , a major supplier of packaging technology to the food, consumer and healthcare industry sectors worldwide, have recently installed  a fully automatic packaging line for a multinational manufacturer of frozen and chilled food products.
The packaging line consists of two SW702 wrap around sleevers and a MX1200 robotic Top Load Case Packer, designed specifically to meet the needs of the customer. Bradman Lake was chosen as the preferred supplier as they could supply a complete system.
The customer was looking for a solution to place wraparound sleeves on to their frozen products and then collate them and case pack them into RSC cases. Due to the limited available factory space and speed required the customer could only install one case packer.
The SW702 Wrap Around Sleever is a full servo 'In Line' continuous motion machine. The trays are delivered onto a flat belt infeed conveyor and picked up by flighted chains. Upon detection a combination of flight chains, side running belts, guides and servo driven glue flap squaring sections ensure the sleeve blank is aligned for squareness and wrapped around the product. Hot melt adhesive then seals the pack.
The MX1200 was customised to accept the sleeved trays as they are discharged from the two SW702 sleever machines.  The case packer then packs the product into the cartons ready for distribution.
Bradman Lake is represented in Oceania by HBM Packaging Technologies.