BOWSER OFFERS EASY AND SAFE TRANSPORT OF FLUIDS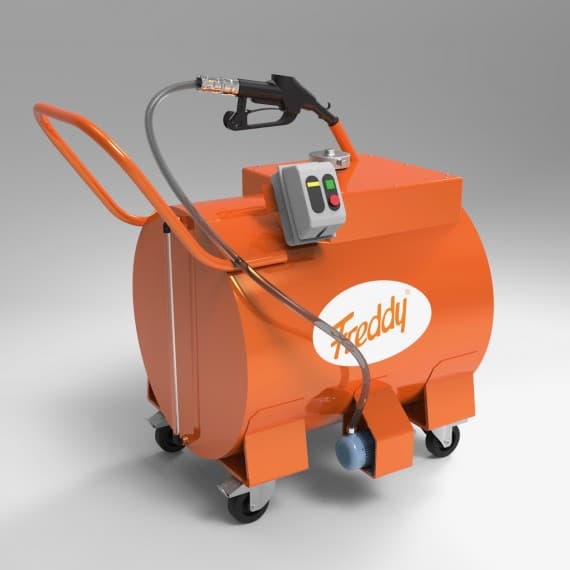 Coolant recycling machine manufacturer Freddy has recently launched an oil and coolant bowser, which is an easy and safe way to transport fresh coolant around a workshop for filling or top up of CNC machines. The bowser is the latest addition to the company's comprehensive range of industrial vacuum and coolant recycling machines, all of which are designed and manufactured in the UK.
It is hand built using 2 and 3mm mild steel, with the option of 304 and 316 stainless steel for fluids with pH extremes, or those likely to conflict with mild steel. The standard capacity is 200L, with the option of 300L. Both sizes are baffled to eliminate unwanted shunt from the fluid sloshing around in the tank.
A removable plate at the top allows easy access to the tank for cleaning or flushing out if required, and the curved design means there is no risk of material being retained in any hard-to-reach places. A sight gauge is located at one end of the tank for quick assessment of capacity.
The bowser features four heavy-duty non-marking 125mm castors with needle roller bearings, allowing easy movement of the unit even when full. These are rated at 250kg each and the two front ones are braked. The whole unit is powder coated in orange for extra durability.
Two models are available: pneumatic and electrical. Both versions offer fast transfer of the fluids, up to 85L/min for the electrical model with a centrifugal pump fitted with hard-faced seals or 52L/min for the pneumatic model fitted with a Samoa Pumpmaster. Options include a retractable Samoa hose reel and a Samoa digital hose end meter if fluid usage monitoring is required.
Coolant management is an important part of efficient CNC machine tool operation, as degraded coolant can seriously impact cutting performance and contribute to health and safety issues.
Freddy coolant recyclers are designed to vacuum out coolant from machine tool sumps, machine beds, drip trays, conveyors and even the shop floor with dedicated floor tools, and then recycle it for re-use. The built-in filter removes fines, swarf and any particulates larger than the filter rating, ensuring that a significant amount of microscopic particles are removed from the coolant, thereby increasing the life of the coolant and the cutting performance of tools.
Using the bowser also reduces the need to come into contact with the coolant, lowering the likelihood of a worker having an allergic reaction or contracting a skin condition through prolonged contact.
The Freddy bowser is available in Australia through Dimac Tooling. "Whether you choose one of the Freddy coolant recycling machines or the new Freddy Bowser, you're guaranteed outstanding quality, ease of use and most importantly longevity," Dimac Managing Director Paul Fowler says.
In addition to Freddy, Dimac is also the sole distributor of other leading CNC accessory and workholding brands including Kitagawa chucks, Reven Mist air extractors, Hydrafeed barfeeders and Royal's Rota-Rack.
Dimac Tooling
03 9771 6121
dimac.com.au