BOTTLECHOCK: AUSTRALIAN INNOVATION AT ITS BEST
17-11-2014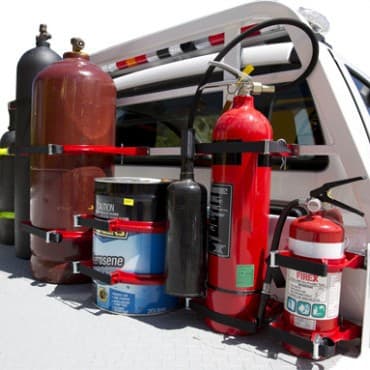 Australian Made Bottlechock from VisionSafe is purpose designed to keep cylinders secure.
The product is ideal for gas cylinders, oxygen tanks, fire extinguishers and oil drums.
"Bottlechock can be used for any type of cylinder from small oxygen bottles to large Propane bottles," says VisionSafe managing director Dean Roberts.
"It is unique to the Australian marketplace."
The product was developed in Australia some 22 years ago.
"We (VisionSafe) bought the business about four years ago and improved and developed the product even further."
About 98 percent of the components are manufactured in Australia and the product is assembled at VisionSafe's headquarters at Mundaring, an outer Perth suburb.
"Bottlechock is registered as an Australian Made product and we are very proud of that, says Mr Roberts.
"VisionSafe is a company that supports local people and local jobs."
Available in galvanised or stainless steel, this exclusive Australian designed product grips around and keeps in full contact with the cylinder, restricting horizontal and vertical movement.
In multiple fittings, Bottlechock secures each cylinder individually either fixed to a wall or on the back of a ute or work vehicle.
Bottlechock is used by a broad range of industry sectors including mining, manufacturing, agriculture, construction, health and defence.
"About 95 percent of mining sites in Australia would use our product," says Mr Roberts.
Bottlechock is quick and simple to install, using just four bolts. Cylinders can be easily changed with one pull buckle and strap.
Quick release pins free up space when the cylinder is not in use, and allow use in another location.
The flexible design makes it easy to "snap" cylinders into place.
Most importantly, workplace injuries are minimised by using Bottlechock as cylinders don't have to be lifted.
Bottlechock comes ready to install with an easy fit kit, with top and bottom fittings included.
Sizes range from small (100-145mm), medium (160-230mm), large (245-375mm).
Special kits are available for large Acetylene and Propane cylinders.
Bottlechock is sold Australia wide and is exported to the UK.
VisionSafe
Ph: 08 9295 0624
www.visionsafe.com.au