BORING OPERATION MEETS UNION RESISTANCE
03-08-2017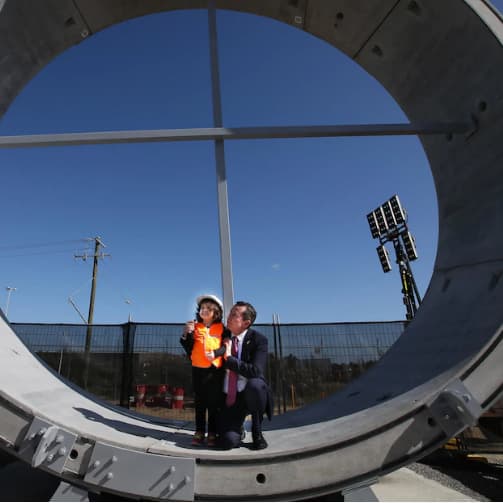 Premier Mark McGowan with Grace McPhee, who named one of the two boring machines.
The start of a major tunneling operation to connect the main train line in Perth to the Airport was met with union protests over a percieved lack of local employment. 
Before the first borer was switched on, more than 100 unionists protested as Mr McGowan and Federal MP Steve Irons, representing Prime Minister Malcolm Turnbull, arrived at the tunnel entrance.
The CFMEU, joined forces with the Electrical Trades Union and the Australian Manufacturing Workers Union to complain that not enough West Australians were being employed on the rail project's tunnelling, and that the overseas workers who are working on the two-year project are being exploited. 
"We've been working with them to make sure that local workers get opportunities and we are satisfied that there is a lot of work as part of this project," Transport Minister Rita Saffioti said.
Western Australia premier Mark McGowan has strongly backed the tunneling project. 
McGowan said the $1.8 billion Forrestfield-Airport link, which will connect to the main rail system in Bayswater, would employ about 2000 people over the next few years, and provide skills and training opportunities in the specialised area of underground tunnelling.
A team of overseas experts will tunnel 8km underground using two 130m long boring machines.
"This really helps in turning Perth into a world city," McGowan said.
"When you can access the airport via rail like you can in major cities around the world, it's very exciting."