Boost productivity with low pressure moulding
31-08-2010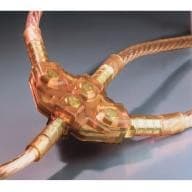 The advantages of low pressure Macromelt moulding over conventional two part potting processes using epoxy or urethane based systems can exceed expectations.
This is particularly the case where continuous improvement and environmental standards are at the core of a company's goals.
In 90 percent of cases where Macromelt moulding is used, cycle times are between 20-60 secs. A part is placed into a mould, injection occurs, the part is removed and is ready immediately for further processing. 
Unlike potting processes using a two-part system, there is no waiting for reaction of materials – which in some cases can be up to 24 hours. This means no work in progress. 
This can free up valuable floor space, which can be critical in creating Lean manufacturing environments.
Further, Macromelt materials are exciting technically, but also ecologically as they are produced from renewable raw materials.
No chemical reactions take place and no solvents are released.
In a workplace environment this can equate to dollar savings with the need for protective clothing and advanced ventilation systems greatly reduced, not to mention enabling a company to better achieve its environmental policy goals.
Tarapath are the experts in low-pressure moulding. Contact the company to discuss available options.
Tarapath Pty Ltd      
Ph: (03) 9269 6200