Boost productivity and profits with FES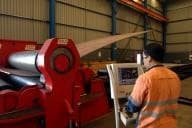 High precision … DAVI hydraulic plate rolls systems
Fabrication Equipment Supplies (FES) – an Australian company specialising in steel fabrication – provides innovative solutions to help its clients maximise productivity and profits.
FES has a strong focus on control, efficiency and productivity, to make steel cutting, bonding, forming and rolling more cost effective.
FES supplies press brakes, guillotines, laser and plasma profile cutters as well as plate rolling machines, bandsaws and punch and shears.
"Our main focus is on providing value for money and service second to none," says FES managing director Mike Dye.
FES has been the exclusive Australian agent for high quality DAVI products for more than eight years.
DAVI has become synonymous worldwide for its high quality steel plate rolling machine systems.
The company is at the forefront of value for money Plate Rolling Technology.
DAVI machines offer high precision, exceptional productivity, efficiency and long-lasting value.
Their impressive client base includes aerospace giants NASA and AIRBUS.
And now, Mercedes Benz has adopted their ground breaking Roll By Wire technology worldwide.
Many Australian companies now have multiple DAVI Plate Rolling machines.
This includes the RPG Group in QLD and SA, which has eight DAVI plate rolls used for general purpose, pipe and wind tower manufacture.
Hilton Manufacturers have three high production models and manufacture 20,000 fuel tanks for trucks for the local and international markets.
Tyco in Victoria and NSW have two high production DAVI models specifically designed for rolling pipe collars up to 200 units per day.
Two DAVI MCP 3232 Heavy Duty Section Rolling Machines have been sold into QLD and Vic that are able to roll 410UB and 250mm angle.
FES can supply plate rolls ranging in thickness from 1mm to 250mm.
A large range of bandsaws and punch and shear machines is available for light and heavy-duty applications.
FES also supplies a vast range of profile and plasma cutting machines.
Fabrication Equipment Supplies
Ph: 07 5478 3387