Boost productivity with Adaptalift Hyster
31-08-2010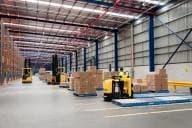 Adaptalift Hyster ensures any warehouse manager can achieve excellent productivity through its extensive range of warehouse equipment – from three-wheel and four-wheel battery electric forklifts, to pallet trucks and reach trucks. 
An experienced supplier of top quality equipment, Adaptalift Hyster delivers maximum dependability. 
All Hyster products are low maintenance, with fewer wearable parts. 
Also, Hyster reduces overall service costs by using common components across several products.
With responsive controls, precise management of speed and acceleration and excellent manoeuvrability, Adaptalift warehouse equipment delivers the optimum warehouse solution. 
Adaptalift Hyster
Ph: 1300 880 335