Boost performance with height adjustable work platform
15-02-2010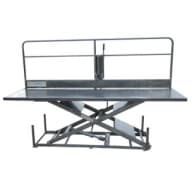 The Actisafe height-adjustable work platform lifts personnel to the most ergonomically suitable height for a safer working position.
A new addition to the company's list of industrial safety products, the work platform can be manufactured to customised length and width.
Made from heavy duty steel, it is ideal for many industry sectors including food processing, manufacturing, warehousing, meat works, painting and cleaning.
The height-adjustable work platform is available in food grade stainless steel to comply with health guidelines in the food processing sector, including primary industry.
For those wanting to align the equipment with corporate identity, the Actisafe height adjustable platform can be powder coated in the colour of choice.
Units can be custom made to be static on heavy duty legs or can be configured with locking wheels. The lift/lower system can be a mechanical device or include an electric motor with controls.
Now workers – regardless of their physical stature – can be lifted to a safe and comfortable working height, minimizing the risk of personal strain injury.
And safety rails ensure employees can move about freely on the equipment without fear of falling off.