BOOST CONVERTORS RE-INVENT THE POWER EQUATION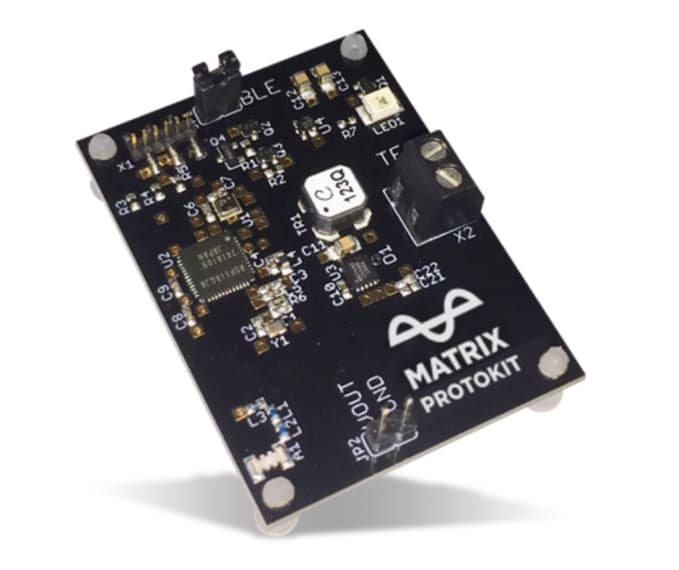 The Mercury prototype kit
Following the signing of a global distribution agreement, Mouser Electronics is now stocking Matrix Mercury energy harvesting DC/DC boost convertors and associated kits.
Matrix Industries is a Silicon Valley materials science and thermal engineering pioneer committed to radically re-inventing the power equation for the IoT and wearables.
Matrix Mercury DC/DC boost convertors are ideal for harvesting and managing surplus energy from extremely low-input-voltage sources such as thermoelectric generators and thermopiles. The convertors' unique impedance-matching feature enables up to 80 per cent peak conversion efficiency energy harvesting across the entire input voltage range, while the ultra-low quiescent current of 700nA helps ensure fast charge times.
Mercury supports input voltage as low as 10mV, and the output can be regulated up to 5V.
The Matrix Mercury evaluation kit provides a simple platform for engineers to measure the performance of the Mercury convertor and allows the addition of an energy storage medium to accommodate for various applications. The outputs of the Mercury's on-chip ADC are broken out on the board to allow real-time measurements.
The Mercury prototype kit is a rapid prototyping platform built around the Mercury energy harvesting boost convertor. It is ideal for developing IoT sensor applications that harness energy from very low temperature differences and eliminate the need to replace or recharge batteries.
The board includes an ultra-low-power 16bit microcontroller with Bluetooth Low Energy connectivity preprogrammed with a beacon application. The outputs of the Mercury's ADC are connected to the microcontroller to allow real-time measurements as well as transmission of the ADC output over Bluetooth Low Energy.
Mouser Electronics
+852 3756 4700
au.mouser.com