BOOM IN INTEREST IN FOUR NEW GENIE PRODUCTS
30-06-2015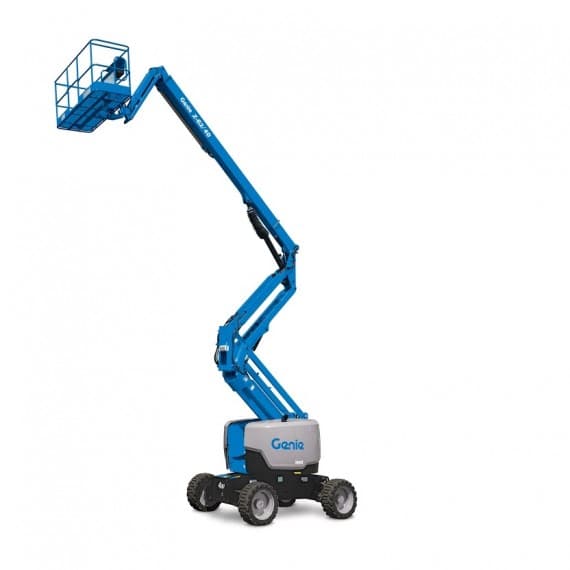 Leading access equipment manufacturer Genie has seen strong customer interest in four new products launched earlier this year.
The four material handling products were on display for the first time at the HRIA Convention in Adelaide in April.
They included the Genie® Z™-33/18, Z™-62/40 boom lifts, the GS-69 BE scissor lift, and the GTH-2506 telehandler, featuring the latest technology.
Genie was honoured with the award for best outdoor display at the Convention.
And the considerable reaction to the Z-33/18 and Z-62/40 boom lifts, available for sale in the third quarter of this year, translated into immediate customer orders.
The high level of interest in the Genie Z-33/18 boom lift was anticipated, according to Brad Lawrence, General Manager, Terex AWP Australia, because the compact, lightweight electric boom lift offers exceptional customer ROI.
"It is well-suited to applications on sensitive surfaces such as inside airports, shopping centres, theatres, even museums and galleries, in addition to routine outdoor maintenance tasks," said Mr Lawrence.  
The Genie Z-62/40 articulating boom lift is a compact and hardworking unit that offers an outstanding working envelope, vertical and horizontal reach, manoeuvrability, and ease of use and servicing.  
"The Genie Z-62/40 will help reduce rental companies' inventory costs, because previously they would have needed to purchase a significantly larger and more expensive machine to achieve the extended reach and capabilities of this new model," said Mr Lawrence.
"We were also very pleased with the extent of the customer interest in the GS-69 BE scissor lift, that is available now and the GTH-2506 telehandler that will hit the market in Q1 2016. Indeed orders are already flowing in for these machines."
The Genie GS-69 BE is the first Genie rough-terrain high-performance scissor lift with electric power and an onboard diesel engine to recharge the batteries.
The "BE" in its name stands for "bi-energy."
"This unique motive system enables the GS-69 BE lift to commence work outside on a greenfields site and recharge using the diesel engine, then move inside in DC electric mode, producing no emissions or engine noise, once the building is constructed," said Mr Lawrence.
"No longer do operators have to change machines — and end a contract with an equipment hire company — when the job moves from outside to inside stages. With this machine, it's a case of being the 'first on, last off' the jobsite."
Lightweight and compact, the Genie GTH-2506 telehandler is simple to transport to the jobsite and easy to manoeuvre once it's there.
"The Genie GTH-2506 is ideal for outside work as well as jobs conducted inside multilevel carparks and buildings where no other telehandler can go," said Mr Lawrence.
"As part of our strategy of providing exceptional products to the market, it was great to show off four new Genie products at the national HRIA convention. The high number of new products on offer made for a very impressive Genie presence at the show."
Genie
Ph: 1800 788 633