Published 12-05-2020
| Article appears in April 2020 Issue
BONFIGLIOLI AND KILIC TEAM UP FOR T-PORTS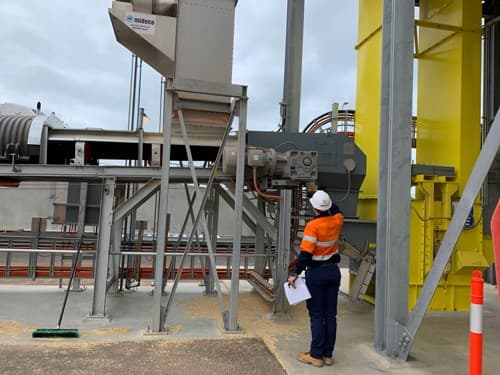 Gearmotor specialist Bonfiglioli has lent its expertise to an Adelaide engineering company for a significant new grain transportation project.
Tasked with creating a 'boom conveyor' to load large volumes of grain onto ships in South Australia, Kilic Engineering turned to Bonfiglioli for local support and on-hand expertise.
The project requires the transportation of 1000 tonnes of grain per hour to a 24,000-tonne silo storage. The grain is loaded into trucks via dual hoppers, taken to the silos, and from there, to a large-haul shipping vessel.
The ship is loaded by the boom conveyor at a capacity of 13,800 tonnes per day.
The boom conveyor, which does the majority of the heavy lifting, is part of a large system for T-Ports, which specialises in innovative solutions for commodities exports.
"It's a long conveyor which goes from the land over to the shipping harbour, and then into the ship," says Craig Dennis, general manager for Kilic Engineeering.
The T-Ports system eliminates the need for major jetty structures and other port infrastructure, and can operate in seas of up to five metre wave height and 30-knot winds.
Its close location to the grain means the T-Ports reduce road haulage distances, carbon dioxide emissions and wear and tear on infrastructure.
Kilic developed the system, designed to handle large amounts of grain at a consistent rate, to be competitive and efficient in the long-term.
"The system design, made in collaboration with our customer Ahrens, includes belts, gantries, services, framework, conveyors, piling and concreted works, and is based on 'off the shelf' solutions,' Dennis says.
Bonfiglioli's trusted gear motors were used to drive the large operation.
"We used a series of HD and HDO heavy duty gear units for this application," says Danie de Vries, Bonfiglioli state manager for Victoria, SA and Tasmania.
With their high-output torque, superior reliability and long operating life, Bonfiglioli's HD series packs high-quality materials into an optimised design.
"The HD Series can operate in the harshest environments, as well as explosive atmospheres, with low maintenance costs and long service intervals," de Vries says.
The Kilic job required four conveyor drives and two bucket elevator drives, all designed and manufactured at Bonfiglioli's Sydney facilities.
"The drives can be customised thanks to an extremely wide range of options and a large accessories portfolio," de Vries adds.
"We were able to deliver on time, on budget as per the scope. We are extremely grateful to Kilic Engineering for giving us the opportunity to prove our products in this application."