Bonfiglioli and Brentwood: progress makes perfect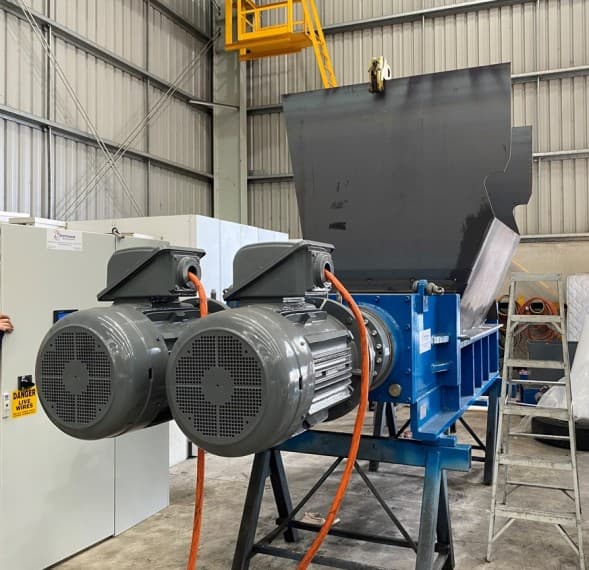 As the only Australian manufacturer of heavy-duty industrial shredders, Brentwood is one of the country's go-tos for recycling and waste processing machinery.
With almost half a century of expertise, Brentwood produces everything from once-off machines to turnkey plant solutions. Explains Managing Director, Graham Badman: "We manufacture heavy-duty industrial shredders, conveying and sorting equipment, and customised engineering solutions. Our team is on-hand to help companies achieve their business goals."
Sustainability is imperative in today's economic climate and Brentwood is dedicated to delivering an effective, commercial solution for businesses across Australia and New Zealand.
Not a shred of doubt
The manufacturing of heavy-duty Industrial Shredders is central to the business's success. "These go beyond the recycling industry and can be used in applications such as security paper shredding, meat processing, timber, plastics and metals," Mr Badman said.
"Over the years, we have developed the knowledge and the ability to service machines and provide spare parts – rather than replacing whole systems. We build machines that last for decades. This clear differentiator has been welcomed by the market as it ensures a long service life and significant cost savings."
Naturally, a high-quality gearbox is needed to power up these robust shredders. Mr Badman said that their company turned to Bonfiglioli 30 years ago. "We value relationships, service and quality over price. You need a supplier who can walk the journey with you."
Bonfiglioli supplies planetary gearboxes with free-issue motors for large shredders as well as worm gearmotors for small shredders.
The Bonfiglioli brand can also be found in Brentwood's Trommel Screens. "Designed with the recycling industry in mind, it is used to separate small materials from large materials. The steel drums are up to 12 m long x 2.5 m diameter and contain small holes which are used to separate the material," he said.
Heavy-duty conveyors known as apron feeders are also fitted with Bonfiglioli's gearboxes. "In addition, we build conveyors for our plants using Bonfiglioli's worm and A-series drives."
"We've come a long way"
Speaking to the early stages of this partnership, Mr Badman said that the relationship was initially formed out of necessity. "Our previous supplier of shredder gearboxes was closing down, so we started incorporating Bonfiglioli's planetary gearboxes. At this stage, we worked with Bonfiglioli through a distributor."
While this went to plan, there were limitations to the initial design; Harry Singh, NSW Sales Manager for Bonfiglioli explains: "Initially, we made use of a spline output shaft which meant that Brentwood's shredders needed to undergo changes to accommodate the gearbox."
"However, in 2015, we formalised a direct partnership with Brentwood which ensured direct access to the customer and enhanced flexibility in our approach. Direct access to the customer allowed us to better understand their needs and be flexible in our design and service approach. Our teams worked together to come up with the updated design that Brentwood currently uses."
Bonfiglioli has come a far way since its inception in Australia. Today they offer a Team Centre where local engineers can design a product for a local customer and their international counterparts can then tweak and make the customised product to order.
"The manufacturing of special products has come a far way over the past five years. Today we can easily, quickly, and simply design, copy a design or make modifications before casting and machining."
Mr Singh adds that the gearbox used for this application was initially designed for the mining sector and has since been adapted to Brentwood's specifications. "This heavy-duty gearbox is suited to harsh environments and is compact in size. It offers a long service life and better torque ratios, and we are pleased to report that there have been no quality issues reported in the past 10 years."
Progress makes perfect
"It has to be acknowledged that Bonfiglioli has made substantial, positive changes to the company over the years. These changes have helped to improve our relationship and our offering as a result," Mr Badman said.
Charles Wang, NSW Sales Engineer for Bonfiglioli plays an integral role on the Brentwood account and said that their team spent 18 months improving their response times and ironing out any issues. "Brentwood strives for perfection as the market leader and we continuously work to improve our service levels, help solve problems and run test data to support them."
"Brentwood is a unique business, and we are learning from them. Seeing our products on a top-quality machine is the best feeling one could experience," Mr Singh said.