BONDED ABRASIVES IMPROVE CUTTING AND GRINDING WORK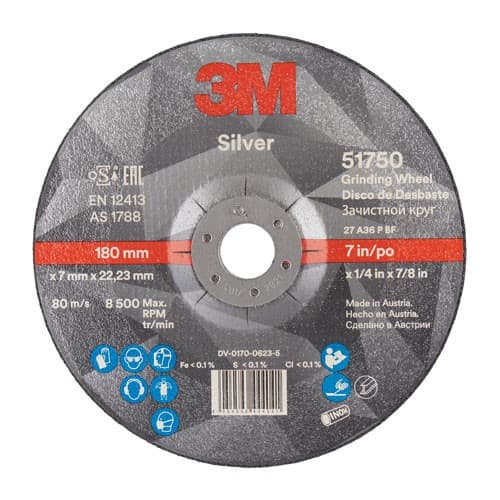 The 3M Silver portfolio of bonded abrasives for cutting and grinding in metalworking applications is available now from RS Components, including the latest depressed-centre grinding wheels and cut-off wheels.
The new abrasives use 3M's Precision-Shaped Grain technology to deliver faster and cooler cutting with longer life when compared with conventional grain products. The highly durable material also delivers a consistent cut through its complete life.
The Silver range balances the combination of cutting ability against wear, which can result in an overall lower spend on abrasives.
The Silver depressed centre grinding wheels are a new type of right-angle abrasives. They are ideal for weld removal, bevelling and edge chamfering, and offer a faster cut and longer life than aluminium oxide and alumina zirconia wheels.
The Silver cut-off wheels are premium performance tools that are affordable for everyday use. They deliver a fast and smooth cutting action on all types of ferrous metals, stainless steels and alloy steels.
The full range of applications for the new Silver abrasives range includes: making structural metal for buildings, bridges and oil and gas infrastructure, as well as the rail and shipbuilding industries; the construction of machinery and equipment for many industries; and a wide selection of general metalworking applications.
The Silver abrasives are shipping now from RS in the Asia Pacific region. They are complemented by a range of 3M personal protective equipment, including safety glasses, cut resistant gloves, hearing protection, face shield, respirators, guard tools and other body protection devices such as aprons and boots.
RS Components
1300 656636
au.rs-online.com