The bond between driver and machine.
02-09-2014
by
in
Materials Handling & Equipment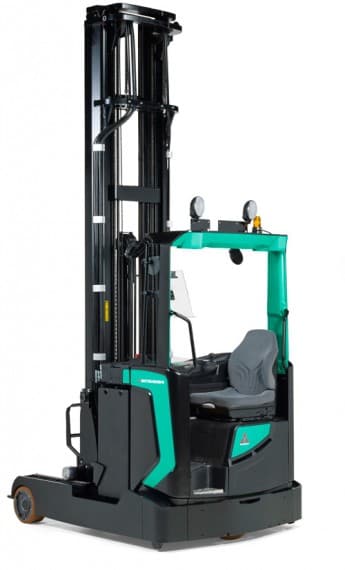 A warehouse can only perform as effectively as its trucks and their drivers. Reach trucks especially are a partnership of driver and machine. That's why the new Mitsubishi SENSIA is specifically engineered to take any operator's performance to the next level.
Available in 11 different models with a maximum lift height of 13 metres, the new SENSIA trucks are generous on operator space and comfort and ensure operators stay focused, safe and productive at all times.
The average reach truck operator mounts and dismounts the truck up to 100 times per day. SENSIA makes that easier and more comfortable through a lower seat position, ergonomic hand bars, a wide non-slip step, and an adjustable steering console that folds neatly out of the way. The key is to have your drivers concentrate on the job at hand, not the truck.
SENSIA has the strength to lift bigger loads to higher heights than most other trucks its size, allowing drivers to operate in smaller aisles and tighter spaces. With 360-degree electric steering and exceptional visibility through the mast, carriage, overhead guard, and uncluttered cabin, the operator knows exactly what's going on at all times. Furthermore, the mast is the strongest and most stable Mitsubishi has ever made, allowing for accurate work at heights of up to 13 meters!
Mitsubishi understands that skilled operators are an important investment and need to be protected from the physical and mental stresses of a challenging job. With the new range of SENSIA trucks, the driver can be as fresh and productive at the end of their shift as they were at the start.
For more information on the new SENSIA range from Mitsubishi, contact MLA Holdings on 131 652 or www.mlaholdings.com.au.