BOC unearths new hi-tech welder for mining industry
31-08-2010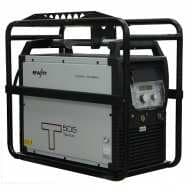 Leading gases and engineering company BOC has unearthed a new hi-tech welder for the mining industry.
The Taurus 505 offers robust construction, easy use and excellent results.
This highly-reliable tool is ideal for the resources and other industries requiring professional MIG/MAG standard welding.
Produced by Germany's largest manufacturer of welding equipment, EWM, and distributed throughout the South Pacific by BOC's team of welding specialists, the relatively portable and compact machine offer the highest levels of performance at an accessible price.
BOC's Senior Product Manager for Welding Products in Australia and New Zealand, Richard Fowles, said the Taurus 505 was perfectly tailored for the mining industry but would also suit a range of other heavy industry applications such a production work in steel and vehicle construction.
"With multi-shift operation and solidly-designed stable metal housing ensuring a long service live, this welder is a high-tech workhorse which continues BOC's proud tradition of welding innovation,'' Mr Fowles said.
"It is a very versatile and safe machine and the most reliable yet of its kind,'' he said.
Weighing just 45kg, the inverter welding machine can be equipped with a roll cage making it easily transportable in the field. 
The Taurus 505 can be carried comfortably by two people, transported in the back of a work vehicle or lifted to difficult worksites by crane.
BOC
Ph: 131 262