BOC RAISES THE BAR WITH NEW CYLINDER RANGE FOR WELDERS
21-12-2015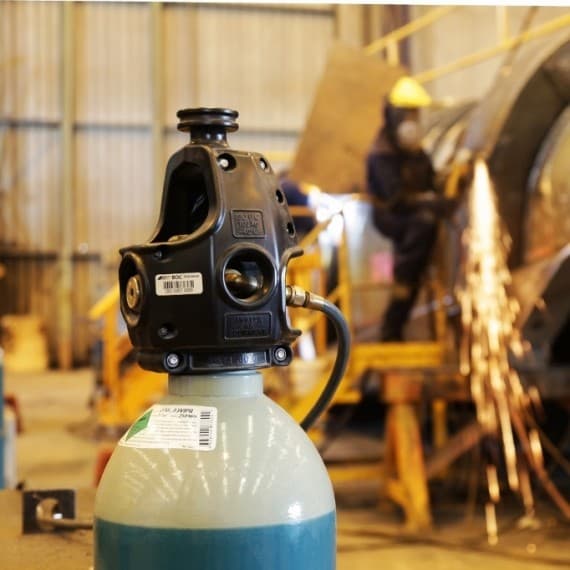 Leading gases and engineering company BOC has unveiled its latest innovation for the welding industry with the launch of the new F3VIPR, 33 litre high pressure cylinder.
The F3VIPR features in-built variable integrated pressure regulator (VIPR).
Kyle Scott, Business Manager Specialised Manufacturing, said the unique design provides enhanced convenience and safety for its customers.
"The F3VIPR range provides busy welders and manufacturers with an all-in-one cylinder solution that improves productivity by eliminating hassles associated with acquiring, fitting and maintaining a separate regulator, Mr Scott said.
"Usage can also be tracked with a content indicator showing the amount of gas left.
"With safety as our number one priority, we have enhanced portability by making the F3VIPR shorter than a G or G2 cylinder, with a handle to assist with trundling, allowing for better manoeuvrability around workshops and sites.
"The 300 bar high pressure has also allowed us to increase gas content in most F3VIPR shielding gas traffics compared to existing G size cylinders with up to 13 percent content increase on our 065G ARGOSHIELD® Universal."
BOC has invested significantly in upgrading its cylinder fleet with more than 550,000 new cylinders introduced over the past five years.
The company has a $15 million world leading cylinder testing facility at its Sydney Operations Centre.
The F3VIPR is now available in 18 of BOC's ARGOSHIELD®, STAINSHIELD®, ALUSHIELD® and Argon gas mixtures and is compatible with a Standard 5/8" fitting.
This means it will work with existing hoses and connections.
The new range is available at BOC Gas & Gears across Australia or online at www.boc.com.au.