BOC INVESTS IN THE FUTURE
22-08-2014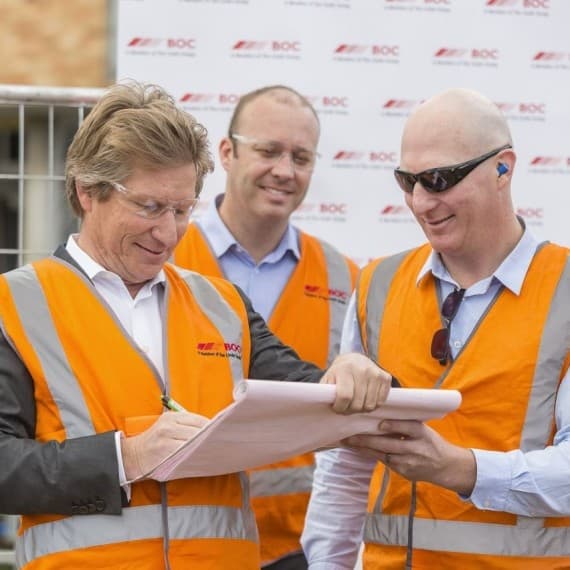 BOC continues its significant investment in Australia's gas infrastructure and supply, has announced a 10 year multi-million dollar ethylene sourcing agreement with Qenos.
The agreement with Australia's only manufacturer of polyethylene, Qenos, is for the supply of up to 1,800 tonnes of ethylene per annum with first supply expected in the third quarter of 2015.
The agreement includes terms for the installation of an ethylene tanker filling bay at Qenos' Altona site and infrastructure at BOC's Dandenong site. BOC tankers will be filled with refrigerant grade ethylene at Qenos for filling at BOC into ISO containers to service the growing LNG export industry.
Ethylene is an essential refrigerant for the new LNG mega projects under construction in Queensland and Western Australia.
BOC's Managing Director, Colin Isaac, said the announcement signalled a continued execution of the company's growth strategy based on developments in emerging markets and servicing major customers.
"In line with BOC's local and global expansion strategies, we are very proud to be delivering a local supply capability to support the ongoing efficient and time critical requirements of our customers," Mr Isaac said.
This investment will see Australian produced ethylene supplied to the LNG mega projects thereby reducing reliance on imports, providing enhanced supply security and benefiting local industry.
The announcement follows major BOC investments including a $65 million upgrading of its Dandenong Air Separation Unit (ASU) and LNG facilities in 2010 to meet Australia's growing need for eco-friendly alternative fuels for heavy transport.
This is in addition to the development of a micro-LNG plant near the Queensland township of Chinchilla also dedicated to providing the trucking industry with a cleaner alternative fuel.
BOC also announced the construction a new $10 million Dissolved Acetylene (DA) plant in Rocklea, Brisbane, enhancing safety and supply security for the industrial gas in Queensland.
The facility will replace an existing DA plant at the Ipswich Road site, which was first commissioned in 1962 and is approaching the end of its service.
BOC Managing Director South Pacific, Colin Isaac, said the construction of the DA plant would be a significant milestone for BOC which has a proud 75-year history providing innovative gas-related expertise and products to Queensland.
"We are delighted to be launching this major project to support the Queensland market, ensuing security of supply and the highest levels of safety as well as providing an essential back up for other states if required,'' he said.
The new Rocklea plant supports a similar BOC operated DA facility in Sydney.