Bluescope Steel back in the black
31-08-2010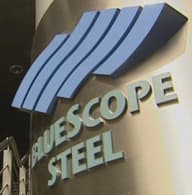 Bluescope Steel has returned to profitability thanks to improved performances from its Asian and North American businesses.
The Melbourne-based group has posted a wafer-thin net profit of $3.7 million for the six months to December — a turnaround from a loss of $23.8 million for the same period a year earlier, reports AAP.
It follows full-year losses of $84 million for the year to last June and more than $1 billion the previous financial year.
Underlying profit, which excludes one-off items, was $49.1 million, a turnaround from a $1.6 million loss a year ago.
BlueScope, run by chief executive Paul O'Malley, said the result was boosted by a 62 per cent improvement in earnings, to $50.9 million, from the company's Asian and North American building products division.
It was also helped by a 48 per cent earnings lift, to $48.7 million, from its North Star BlueScope Steel business, also in North America.
BlueScope's Australian coated and industrial products division made a loss of $900,000, compared with last year's $2.4 million profit.
The company's building components and distribution business dragged on the result, with an underlying earnings loss of $10.9 million, compared with last year's $7.1 million loss.
BlueScope says it expects its second-half profit to be roughly in line with the first half.
The company did not pay an interim dividend.