BLUE AIR DEHUMIDIFICATION TECH PROVIDES ENERGY EFFICIENT OPERATION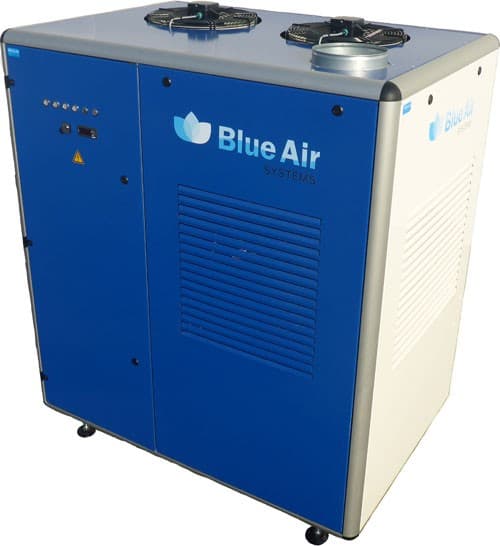 Injection moulding, thermo forming and blow moulding without condensation is possible, and Blue Air Systems' range of MSP-Dehumidification units, and new Dry Mould System series, prove it.
The Dry Mould System (DMS) is a dehumidifier that works without the need for chilled water, and overcomes the limitations of more traditional dehumidification systems, particularly in regards to energy consumption.
The mould dehumidification units MSP are used mainly for supplying dry air to a central dehumidification system. The specialized DMS series were made to be used for single production machines (up to 3 units).
As inventor of this game-changing technology, Blue Air Systems has spent three intensive years developing, testing and improving the system.  The DMS units provide year-round, condensation-free production conditions, independent of ambient conditions, without the need for chilled water needed for pre-cooling.
This energy-efficient technology guarantees the users of injection, blow moulding or thermoforming machines to run the shortest possible cycle times, therefore guaranteeing higher production output.
The DMS series has been installed in various climatic areas, proving its performance. A number of references prove their efficiency and effectiveness.
At the K 2016 Plastics and Rubber trade fair, the Dry Mould System for high demanding injection moulding, extrusion blow moulding or thermo forming applications will be demonstrated to the trade visitors. 
Blue Air Systems
Web: https://www.blueair.com/au
Phone: 1300 301 951