Blooming bouquet: Buy Aussie flowers this Valentine's Day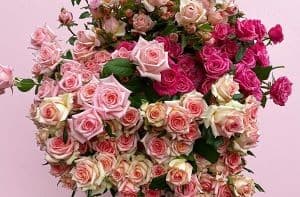 With Valentine's Day just around the corner, the Australian Made Campaign is calling on all of us to show their love for Aussie farmers by ensuring your loved ones receive Australian-grown bouquets.
Australian flowers travel a relatively short distance from the farm to florist compared to imported varieties, which translates to exceptional shelf-life for Valentine's Day bouquets.
Australian Made Chief Executive, Ben Lazzaro, said the benefits of shopping local when buying flowers are abundant.
"Every dollar spent on Australian Grown flowers supports Australian businesses, the local workforce and broader community as a whole," he said.
"Your Valentine's Day purchase will also have a direct economic impact on the livelihoods of Aussie growers.
"Country of origin labelling is not mandated for the flower industry, so many consumers are unaware of where their flowers were grown," said Mr Lazzaro.
"They might be surprised to learn that these flowers may have travelled thousands of kilometres before they even take them home, so it's important to look for the Australian Made, Australian Grown logo to be sure you're buying local.
"It's the easiest way for consumers to support local businesses and to make sure their flowers have the authentic Aussie stamp of approval.," he added.
A report published by Horticulture Innovation Australia, found that in 2019/20 Australia imported approximately $74.2 million worth of fresh-cut flowers, up from $66.8 million in 2016/17.
Recent Roy Morgan research found that since the pandemic more than half (52%) of Australians have shown a higher preference for Australian made products, with 73% likely to engage with businesses that partner with the Australian Made logo.
There is nothing like a locally grown bouquet, so help support Aussie growers this Valentine's day. Look for the iconic green and gold kangaroo and ask your local florist 'where are these flowers grown' to find stunning Australian Grown flowers.