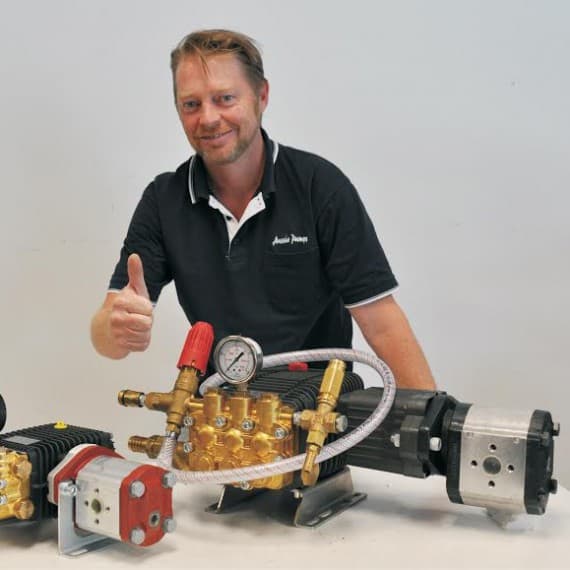 Hamish Lorenz, Aussie's Operations Manager, showcases the Bertolini hydraulic drive pumps.
Australian Pump Industries' range of heavy duty hydraulic drive high pressure cleaners (with pressures up to 500bar (7300 psi)), have played a vital role in the drilling industry. Industry leaders have been asking for a portable pressure cleaner that is safer and can handle to the most strenuous mobile plant cleaning applications.
"We've experienced huge sales growth of hydraulic drive pressure cleaners since the introduction of the product range with demand largely coming from the drilling and construction markets," said Aussie Pumps' Product Manager, Hamish Lorenz. "Recently we have focused on the drilling industry, realising that hydraulics are intrinsically safer than electric and definitely more convenient than engine drive."
The range, in Aussie Pump's new Blaster Blitz catalogue, includes machines from 3000 psi all the way through to 7300 psi.   With flows of up to 120 litres per minute, hydraulic drive blasters have all the features and benefits of a conventional pressure cleaner but come with a series of significant advantages over petrol or diesel drive machines.
"For a start they are quiet, don't blow fumes or exhaust and are inherently safe. Depending on the parent power supply, they have almost unlimited grunt compared to conventional engine drive systems," said Lorenz.
System designers like the hydraulic idea because the product can be located in a key position without drive shafts, gearboxes, pulleys and belts used in conventional applications.
Australian Pump has matched up "Big Berty" Bertolini heavy duty triplex pumps from both the TTL and RA series with top quality Cassapa hydraulic motors. The combination provides a close coupled, compact high pressure water blaster kit that can be either mounted in a cabinet, or even installed in a trolley depending on the application.
"Hydraulic drive really lends itself to material processing applications where loads of power is available and the pump can be mounted remote from the control station" said Lorenz.
"Conveyer belts, dust suppression systems and even hydro demolition are natural applications for hydraulic drive high pressure systems. The operator can work remotely from the machine and that's a huge advantage.  It's safer and can isolate the work station," he said.
All machines come with the Aussie ASP (Safety Protection) kit that includes an unloader, thermal dump and safety valve.  The safety valve protects the operator and machine against excessive pressure spikes whilst the thermal dump protects against failure from excessive bypass running.
The company chose to go with big Bertolini pumps for this application because the machines are designed for heavy duty industrial applications.  The "Big Berty" Bertolini range are slow speed 1450 rpm pumps designed for long life and trouble free operation.
All units feature an exclusive reinforced Teflon sealing system for long operational life and wear resistance.  Highly polished solid ceramic plungers provide extended life in extreme duty applications. Oversized roller bearings are standard in all models.
Stainless steel valves, designed specifically for each series, offer superior performance characteristics to conventional pumps. Pumps up to 350bar feature forged brass pump heads whilst 500bar pumps all come with 316 stainless steel pump heads as standard equipment.
Hydraulic drives specifically suit mobile applications, particularly hydro demolition, drain cleaning and trenchless excavation.  When vehicle or machine mounted, they can run off a hydraulic system of the parent equipment.   That makes them ideal for dust suppression pumps on tankers, for drilling rigs, and all types of earthmoving and mining equipment.
High pressure hose reels, rated up to 500bar are also available for the easy storage of long length hoses for in field cleaning applications.
"We are working with big fleet plant owners on developing machines that are more user friendly, safer and more efficient than conventional cleaning equipment by using the power of hydraulics," said Lorenz.
Further information on the full range of hydraulic drives including simple application and installation details are available from Australian Pump Industries.
Australian Pump Industries
02 8865 3500