BLAST MACHINE MAKES A BIG IMPRESSION
31-08-2010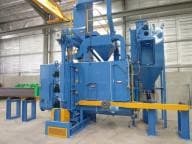 What a blast … the Protoblast Section Blast machine
Protoblast Company is an Australian owned and operated company specialising in the manufacture of Abrasive Blasting Equipment.
Since its establishment more than 40 years ago, Protoblast has supplied Automatic Blast Machines, Abrasive Blast Chambers and ancillary equipment to industry worldwide.
The Protoblast Company has developed the Protoblast Section Blast Machine, which is now a feature of many fabrication workshops throughout Australia. 
The Section Blast machine's main purpose is to abrasive blast steel sections before fabrication – a cost effective solution to a full Blast Chamber. 
The Section Blast machine takes up less space that a Blast Chamber, costs less to operate and is more efficient. 
Many customers have installed the Protoblast Section Blast machine in line with their Beam Line Machine. 
As a result, they have experienced a drop in fabrication times, as fabricating pre-blasted steel is faster than working on virgin steel.
Protoblast Company also has Automatic Blast Machines for post fabrication and manufactures all equipment for Blast Chambers. 
Protoblast Company, which has agents in all states, is committed to ensuring the best possible blasting equipment solution for its customers. 
Protoblast Company
1800 772 320