BLACK LUNG INQUIRY CHOKES BUREAUCRATS
30-05-2017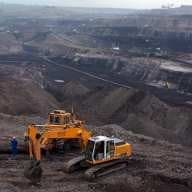 An independent inquiry set up to probe the procedures and culture that gave rise to Queensland's spate of black lung diagnoses has found that several officials displayed "resistance and obstruction". 
This comment from the inquiry is especially problematic because the resurgence of black lung was found to be caused not by new developments in how the condition was caused, but by officials and health professionals who swept potential cases under the rug, or simply "given up looking for [cases]". 
The Black Lung, White Lies report looks specifically at the 21 incidences of black lung since it was first reported upon in 2015. 
"The committee found that there has been a catastrophic failure, at almost every level of the regulatory system, intended to protect [the] health and safety of coal workers in Queensland,"  according to the report.
The committee, chaired by Labor MP Jo-Ann Miller and LNP MP Lawrence Springborg, recommends major changes to existing systems and checks. 
"There has been a failure in relation to the doctors, the radiologists, at almost every level — the radiologists in particular cannot walk away from this scot-free," Miller said.
"There has been 30 years whereby the doctors have been asked to look after the coal miners' health and they have failed catastrophically."
Queensland's Mines Minister Anthony Lynham told 7:30 that he still sees "hard working public servants absolutely committed to eliminating this insidious disorder from the Queensland workforce." 
But as the report concludes, there has been an ongoing and dedicated effort to sweep away any evidence of black lung, to the massive detriment of workers. 
Black Lung Disease, formally known as 'coal workers' pneumoconiosis, is a condition that develops when someone inhales coal dust over a long period of time. When inhaled, coal dust can settle in the lungs where the body is unable to process or reject it. Over time, this buildup causes inflammation, lung fibrosis, and eventually tissue decay.
For those affected by Black Lung, there is a support group that can be reached at victims@dusttodust.org.au