Published 20-05-2021
| Article appears in June 2021 Issue
Black Lab Design shares its expertise for the common good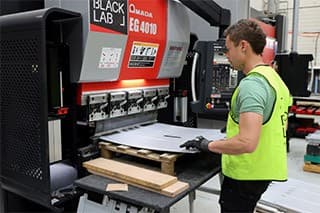 (Below) Daen Simmat, CEO Black Lab Design: "We are continually trying to find ways to solve traditional problems and challenge the old ways of doing things."
Visits from competitors are not something many businesses welcome but Black Lab Design is so proud of what it has achieved that it takes pleasure in sharing information with anyone.
"More efficient manufacturers help make Australia a better place for successful manufacturing," says CEO Daen Simmat.
"I have always believed in the need to build close customer relationships and have encouraged customers to visit our factory. These events give customers an in-depth understanding of our capabilities, often resulting in constructive suggestions for solutions that that add to our efficiency and a better product for the customer.
"We encourage customers and suppliers to spend time in our factory to understand the way we operate and how their input and suggestions can provide mutual benefit. Visitors walk away with an expanded awareness of what is possible by pushing the boundaries. Customer education through hands-on factory experiences is important to us because we know these activities help to build trust and encourage a cooperative environment."
The highly experienced industrial designer is passionate about designing for manufacture and creating effective, fit-for-purpose solutions in a timely manner. He is driven and ambitious to showcase the capabilities of the Black Lab team and the manufacturing industry in Australia.
His company is a fully integrated design and manufacturing facility that encompasses product design, engineering skills, advanced sheet metal fabrication and the latest multi-material printing processes. It focuses on manufacturing diversity, flexibility and being super-competitive in delivery times. Having a team enables the operation to work closely with its customers from concept through development to manufacture and deliver on time.
"When establishing the business, a key challenge was determining how to grow high-value sales of large volumes of diverse, high-quality products in a short period, without incurring significant additional capital investment costs," said Mr Simmat.
"Our strategy is to pursue high-value business across market segments that include major retailers, industrial applications and digital signage. We have been extremely proactive in seeking business with some of Australia's largest corporations and have enjoyed success by delivering what we promise."
Mr Simmat continued: "On-time delivery and quality products are the prime requirement of major customers and we have geared our business accordingly. This means we are extremely reliant on having the most efficient machinery, together with the skills to extract maximum machine performance.
"Our customers demand very tight delivery schedules. We often need to install new machinery to meet our contractual obligations. Under these circumstances, we can't afford to wait weeks and months for new production equipment.
"When we sign contracts to supply our goods, we have to be absolutely certain that promised delivery dates are realistic and achievable. Machinery suppliers like Amada Oceania who keep machines in stock locally are critical to our success. Amada Oceania also has support technicians and engineering expertise on hand to ensure fast setup, installation and deployment.
"Our business is growing rapidly because we are one of a few manufacturers who are able to  produce and deliver in an environment where shorter time cycles are becoming normal. This is a critical element in our growth and is why Amada Oceania's machines, service and availability of parts and tooling play such a key role in our business. At the end of the day machine reliability and productivity is all that matters," Mr Simmat added.
Its business approach has fast tracked Black Lab Design to progress from being a sheet metal fabricator to a complete design and manufacturing facility. It has reached this point by being proactive in gaining business and having the machinery, skills and staff that have delivered it 120% growth in the past 12 months.
The business's staffing levels have increased from 45 people 12 months ago to 100 today, largely due to the company's ability to respond to market demands, which has been supported by development of its internal skills and resources as well as cooperative and responsive suppliers of equipment, components and materials.
Commenting on where Black Lab Design is going to next, Mr Simmat said "our next growth strategy is to increase our production volume by horizontally integrating into processes such as repetitive machining and plastic fabrication to provide more services to our client base".
Black Lab Design - https://blacklab.design/
Amada Oceania - https://www.amada.com.au/