BIOGAS PLANS MORE THAN JUST HOT AIR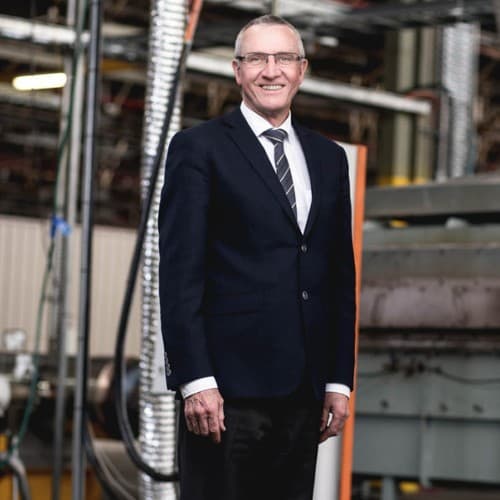 1414 Degrees Executive Chairman Dr Kevin Moriarty is confident in SA's renewable energy plans.
A system to capture biogas from a wastewater treatment plant, store it as thermal energy and sell it to the electricity grid is among the next wave of projects to receive money from the South Australian Government's Renewable Technology Fund.
The $3.2 million 1414 Degrees project at the Glenelg Waste Water Treatment plant in Adelaide was among four recipients in the latest round of funding, which is also helping to pay for the 100MW lithium-ion battery Elon Musk's company Tesla is building at a wind farm in the state's Mid-North.
South Australian company 1414 Degrees has spent almost a decade developing its Thermal Energy Storage System (TESS) technology to store electricity as thermal energy by heating and melting containers full of silicon at a cost estimated to be up to 10 times cheaper than lithium batteries.
The wastewater treatment plant project will use $1.6 million in government funding to help build a 0.25MW/10MWh thermal energy storage device that holds heat generated from the combustion of biogas produced on site.
1414 Degrees Executive Chairman Dr Kevin Moriarty said SA Water already generated electricity to power its operations from the biogas as it is produced by wastewater treatment processing at the site.
"The 1414 Degrees technology will instead burn the biogas and store the thermal energy, so the heat and electricity can be harnessed to better coincide with SA Water's operational needs and times of high electricity market prices," he said.
A tonne of silicon can store enough energy to power up to 28 houses for a day.
Its high latent heat capacity and melting temperature of 1414 C make silicon ideal for storing large amounts of energy. The process also generates clean useable heat, which can easily be utilised for district heating or industrial purposes.
"We can extract about half of the energy as electricity and the rest is available as heat. If we can use that heat, which is required by industries and households around the world, we can achieve 90 per cent or more efficiency from the renewable sources," Dr Moriarty said.
"There's a number of solutions out there from batteries to pumped hydro but the one thing missing is something that's proven, scalable and is going to provide a low-cost solution that can be adopted everywhere.
"If we are going to solve the issues around renewable energy we have to solve the issues around storage.
"South Australia is a particularly good laboratory because it's one of the first places in the world where a very large proportion of renewable energy is exposing the issues around incorporating these technologies into the electricity grid."
South Australia leads the nation in the uptake of wind energy and rooftop solar with renewable sources accounting for more than 40 per cent of the electricity generated in the state.