BIOGAS ENERGY STORAGE SYSTEM LAUNCHED AT WASTEWATER PLANT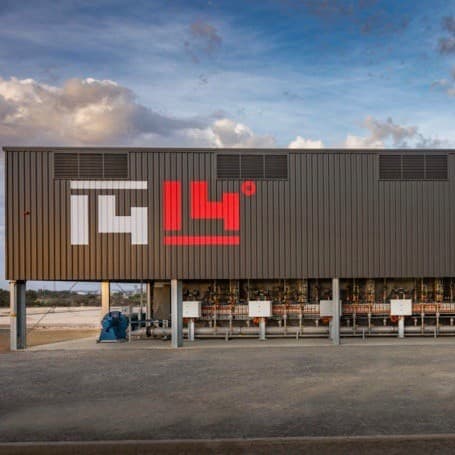 Adelaide energy storage company 1414 Degrees has switched on its first commercial pilot site, a gas thermal energy storage system (GAS-TESS) at the Glenelg Wastewater Treatment Plant. The company says the system is the first in the world to effectively store biogas as thermal energy to produce heat and electricity on demand.
TESS technology takes gas or electricity from any source and stores it as latent heat in silicon, which melts at 1414°C. The energy from the latent heat can be reclaimed and distributed as electricity and/or heat when required. A 10MWh storage unit is about the size of a standard shipping container.
Biogas is produced when organic waste, including human waste, is broken down by bacteria in an anaerobic environment. 1414 Degrees Executive Chairman Kevin Moriarty says biogas is an increasingly important source of energy globally.
"This marks a pivotal phase in the commissioning process, firing the burners for the first time and heating up the thermal energy store," he says. "Importantly, we will pay for the biogas we use and sell electricity at market prices to test the revenue model.
"The wastewater management industry is watching closely, as are many other heat dependent industries looking to reduce energy costs, save jobs and lower environmental impacts.
"Renewables are about more than wind and solar. It's time to put our vast sources of biogas to more efficient and sustainable use. Naturally occurring biogas has the potential to lower the cost and increase the stability of energy with reduced demand on fossil fuels."
The system is co-funded by the South Australian Government's Renewable Technology Fund. It will enable the state's water utility SA Water to time-shift the use of its biogas to produce electricity and heat on demand, rather than use the biogas as it is generated.
SA Water CEO Roch Cheroux says the utility is working to reduce operational expenses to maintain stable water prices.
"Time shifting of heat and electricity output from the GAS-TESS is expected to provide more control over heat flows to maximise our biogas generation and result in reduced costs of our energy requirements," he says.
The company, previously called Latent Heat Storage, began developing the technology a decade ago in partnership with Adelaide-based engineering consultancy ammjohn and the University of Adelaide.
It has attracted approximately $30m in investments since December 2016, when it became an unlisted public company, including the $16.3m raised in the IPO ahead of its ASX listing in September last year. This was followed by the commissioning of its first 10MWh electrically charged TESS industrial scale model.
Moriarty says the company has a clear vision to scale its technology to gigawatt hour capacity to stabilise renewable generation. He says its energy storage systems will support grid stability by feeding power back into the grid at peak times and provide heat for industrial purposes in a bid to increase reliability and reduce costs.
South Australia leads the nation in the uptake of wind and rooftop solar with renewable sources accounting for more than 50 per cent of the electricity generated in the state. It also made global headlines in 2017 when Tesla installed the world's biggest lithium ion battery at Neoeon's Hornsdale Wind Farm in the state's Mid North.
State Energy and Mining Minister Dan van Holst Pellekaan says the 1414 Degrees project shows that South Australia continues to lead the way with energy technology development.
"This new thinking is solving problems and creating opportunities as we transition to a new energy environment," he says. "It will take innovative companies like 1414 Degrees to ensure energy security."
1414 Degrees
08 8357 8273
1414degrees.com.au