This bin-tipper ticks all the boxes
31-08-2010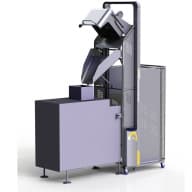 When a multinational food and beverage manufacturer needed a custom stainless-steel bin-tipping machine, they turned to the one company they knew could provide them with a solution that met their high expectations.
Sitecraft Materials Handling Equipment, not only stocks an extensive range of specialized handling equipment, but is also able to provide purpose built equipment sourced from both local and global suppliers.
One of the suppliers that Sitecraft has partnered with is Australasia's leading bin lifting and tipping equipment supplier.
When Simpro Handling Equipment released the Dumpmaster bin-tipper more than 25 years ago, it was radically different to other bin-tippers that were available at that time. The innovative tipping action allows the machine to be much more compact and more stable than the traditional designs.
Over the intervening years, Dumpmasters have built an unmatched reputation for safety, reliability and ease of use. They have been steadily improved and refined, and new features and options added. For example, as safety has become more important, the Dumpmaster's guarding options have increased.
They are now available certified to a Cat 3 or 4 safety rating, which is a mandatory requirement, by many leading manufacturing companies in Australia.
Safety categories are often not well understood, but broadly speaking the operation of the machine must be designed so that a single fault or breakdown in any of its parts does not lead to the loss or compromise of any of its safety functions.
The status and performance of all safety components is continuously monitored by special relays through two separate circuits, and if any fault is detected the machine shuts down until the fault has been rectified.
Dumpmasters are widely used in production processes – particularly in the food and pharmaceutical manufacturing sector.