THE BIG TASK OF MANAGING SMALL PARTS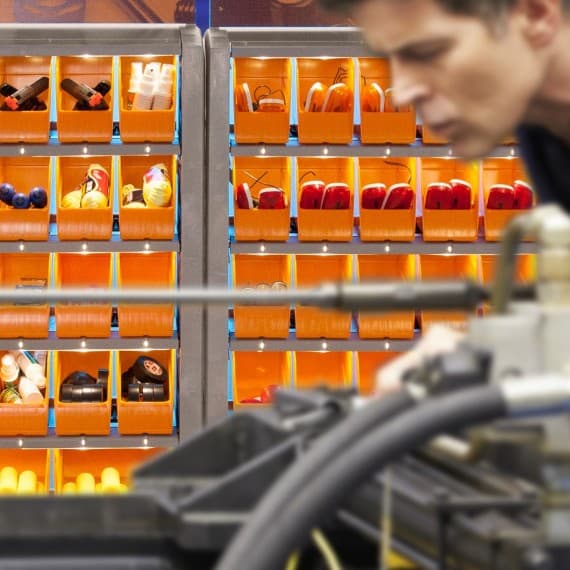 While almost every other aspect of manufacturing has changed over the years through automation or computerisation, manual parts reordering systems like Kanban remain in use in manufacturing plants around the world.
For over 60 years, there has been little innovation in reordering procedures for manufacturers across the world.
But according to Kent Savage, CEO at Apex Supply Chain Technologies, this is no longer the case.
Mr Savage and his company, Apex Supply Chain Technologies, have spent the last 20 years automating various aspects of the supply chain with industrial vending solutions.
Today, its cloud-connected solutions are used by tens of thousands of global clients to ensure supply chains are up and running as effectively as possible.
For its latest product, Mr Savage turned his eye to solving the tedious and labour-intensive issue of reordering small parts.
"In creating the Actylus Smart Replenishment Solution, we looked at all the challenges that of tracking, managing and ordering small parts," Mr Savage said. "The result is a new, automated procedure that has been designed from the ground up to boost supply chain productivity by 30 percent and grow bottom-line revenues across a variety of industries and applications.
"If you run out of stock – your lines go down, it's that simple. With our latest solution, Actylus, any business or manufacturer that relies on bins to manage stock is now able to replace the cumbersome manual counting and alerts of flags, labels and cards with a cloud-centric automated solution."
Actylus uses highly accurate scales under each of its bins to precisely monitor stock levels and reorder based on weight.
Bin sizes are totally flexible and weight levels are easily reconfigurable, meaning Actylus is capable of storing and monitoring any item traditionally stored in bins. This includes electronics, electrical components, auto parts, healthcare supplies, maintenance parts, plumbing, fasteners, to OEM parts and more.
"Actylus smart bin technology also determines when an individual bin needs restocking and sends automated restock alerts and re-order notifications to suppliers at any time of the day or night," said Mr Savage.
"This eliminates counting trips, safety stock and emergency orders – which keeps lines up longer and frees up staff to concentrate on more important areas of the business."
Another key addition is the access to 24/7 business intelligence, providing far more operational visibility than other processes like Kanban ever could.
"Our proprietary Trajectory Cloud platform constantly monitors each Actylus system, so managers will instantly know when an item needs to be restocked, ensuring you never run out. Usage patterns and trends are readily accessible through an easy to use reporting system. Managers can even log on and check stock levels via phone or email anytime, anywhere."
When it comes to implementation, Mr Savage says all Actylus devices are shipped flat-packed and are supported by Apex Connect n' Go Technology.
Installation is as simple as plugging the device into a power supply and connecting it to the Internet, with no software to install or servers to maintain.
"We believe that Actylus is the next step in manufacturing efficiency," said Mr Savage.
To find out more visit: http://www.apexsupplychain.com/au/products-3/actylus/