BIG START TO THE BIG SHOW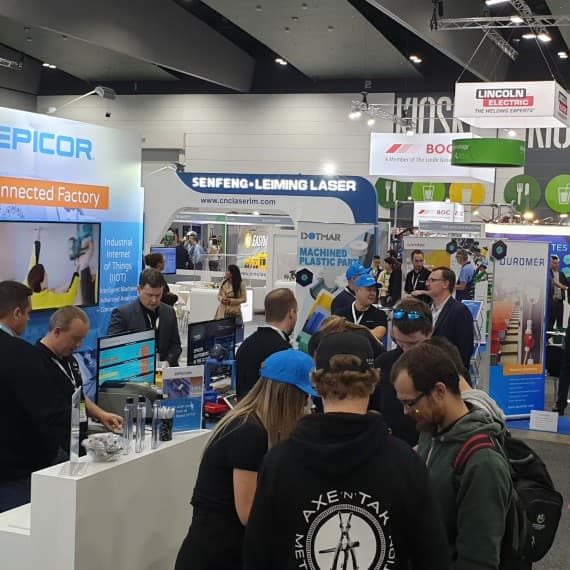 National Manufacturing Week and Austech got off to a big start on Tuesday morning, with queues to register and a steady flow of visitors to Melbourne's International Convention and Exhibition Centre. And, true to its billing, the Austech component of the show is certainly the biggest in the show's history, with many Amtil member companies expanding their presence within the event.
The combined conference programme also got off to a big start, with a packed audience for Australia's Chief Scientist (and "on-call engineer", as he describes it) Dr Alan Finkel harking back to his father's years in manufacturing, and his own as boss of Axon Instruments.
Commenting on Australia's disadvantage against lower-cost manufacturing nations, Dr Finkel was reminded of his step-father's advice that "Quality is remembered long after price is forgotten", highlighting that "quality is the Australian brand and quality assurance is the Australian strength".
However, the subject of his keynote was "What manufacturing can teach AI", or rather the increasingly angry debate about the adoption of artificial intelligence throughout business in Australia.
Dr Finkel called for a combined legal, financial and cultural approach to AI, but cautioned that "we have a decade of tricky decisions ahead."
Robby Clark, Exhibition Director, National Manufacturing Week, said of the first day: "National Manufacturing Week 2019 opened with a fantastic first day. It was great to see the eagerness and excitement of visitors lining up ready to enter this year's exhibition and conference. There were numerous highlights throughout Day 1, with extensive industry expertise and insights delivered throughout the conference programme, including the opening by Dr Jens Goennmann, from the AMGC, to The Hon Martin Pakula, Minister for Jobs, Innovation and Trade, and of course, the first keynote delivered by Australia's Chief Scientist, Dr Alan Finkel AO.
"The dynamic and interactive product demonstrations on the exhibition floor, across the all technology zones from Automation & Robotics to Welding Technology, generates inspired interactions between exhibitors and visitors."
National Manufacturing Week and Austech both run until Friday 17th May at the Melbourne International Convention and Exhibition Centre.