BIG MINE PUMPS GO STAINLESS
01-09-2015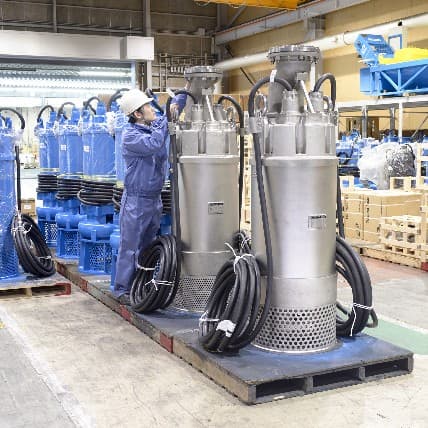 Everyone acknowledges that mine dewatering is one of the toughest applications in the world for a submersible pump.  It is not only issues with abrasion and high temperature but the wastewater involved is highly corrosive, with pH values as low as 4.0.   
Tsurumi Pump, the world's biggest manufacturer of electro submersibles, has released a range of all stainless steel pumps designed for just such liquids.  The biggest of these are the new 6" and 8" LH series pumps with motors of up to 110kW.
The revolutionary new range of pumps is being manufactured in Tsurumi's huge robotised factory in Kyoto, Japan. Impellers, casings, motor frames, outer covers, strainer stands and flanges are all made from corrosion resistant 316 stainless steel.
 "The pumps have gone through extensive testing before being released, first to the US and now in the Australian mining market" said Aussie Pumps Chief Engineer, John Hales.  "We've worked with Tsurumi engineers, providing positive feedback about the requirements of the Australian mining industry," he said.
Tsurumi has been a manufacturer of all cast 316 stainless steel pumps for a number of years with the SFQ series ranging from 0.4kW to 11kW.  The new LH stainless steel series with 110kW motors provide pumps with flows of up to 6,500 L/min and heads to 107 metres.
The LH series also incorporates Tsurumi's exclusive standard features, all aimed at delivering life cycle costs significantly below the industry average.  These include the unique anti wicking cable entry that prevents water ingress into the motor if the power lead is damaged or the end submerged.
The entire range offers double silicon carbine seals with a unique oil lifter, incorporated in the seal chamber, ensuring the seal surfaces remain lubricated.
"Tsurumi is a very different pump manufacturer to other giants of the pump industry" said Hales.  "Their focus is in producing products that perform better and provide users with nothing but positive outcomes" he said.
Contact
Site: http://www.tsurumipump.com/