FOR BIG JOBS IT'S THE JUMBOSPRINT VACUUM LIFTER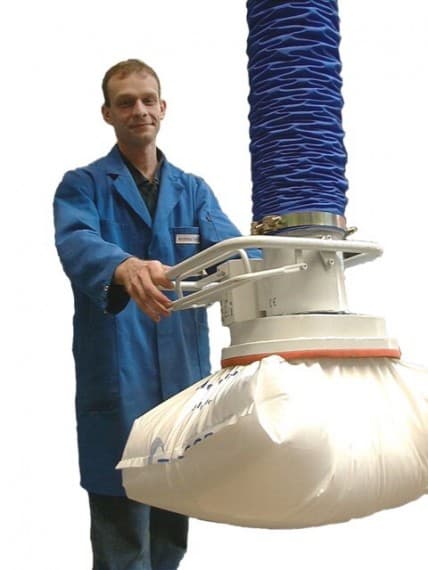 The JumboSprint Vacuum Lifter from Millsom Materials Handling has been developed with ruggedness in mind.
The JumboSprint, with its sturdy design and construction, is perfectly suited to the harshest working conditions.
It's perfect for multi-walled bags, sacks, stones, concrete pavers, as well as cardboard boxes.
A stainless-steel version of the JumboSprint is available, making it an ideal materials handling aid for the food and pharmaceutical industries.
Applications include:
Stacking product onto pallets from a conveyor
Feeding hoppers or mixers with bags of product
Lifting boxes too heavy to lift manually
The control unit of the JumboSprint is the ideal option when lifting heavy, compact loads that are rough or difficult to lift manually. The operator can use both hands to quickly and effortlessly lift and steer the product precisely from one location to another.
Features include:
Robust construction withstands harsh operating conditions
Easily adjustable hover height
Precise product location due to a more "hands on" design
Easily accessed filter body for quick cleaning
Millsom Materials Handling
Ph: 1800 99 22 11