Big capacity compressed air supply with smaller energy costs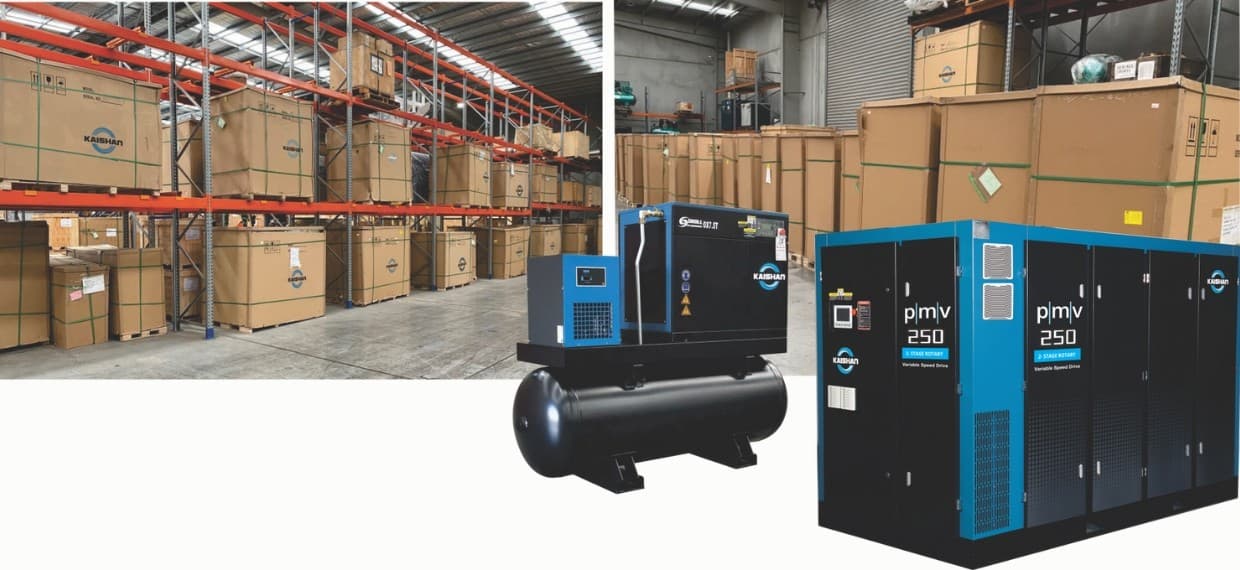 Large manufacturing operations require even larger amounts of regulated compressed air to operate  a variety of vital applications and the bigger the demand, the bigger the compressor.
Now, the latest range of rotary screw compressors from Kaishan meets required air output while utilising Permanent Magnet Variable frequency (PMV) and 2-stage technology to reduce the required energy to generate equal or greater air output than other compressors with larger kW motors. That means acquiring all the compressed air power for today and tomorrow with up to 50 percent energy cost savings over conventional compressors with equal or greater output.
For compressors up to 250kW, these advanced machines utilise systematic optimisation of the airends through permanent magnet drive motors and variable speed drive technology to achieve higher efficiency over all operating speed ranges plus advanced 2-Stage technology generates more air and ensures longer bearing life.
Variable frequency gives operators complete control of air output to meet wide ranging demands for a variety of applications with no startup spikes or cost penalties. Other major benefits of these compressors are significantly lower noise levels, less bearing wear, and lower maintenance requirements.  
Positive 2022 outlook
With an optimistic 2022 industry outlook, Kaishan Compressors CEO Mark Fergusan said the company has stocked up with over 200 ready to go 'new generation' compressors to assure their customers of fast delivery on stocked machines and system installation for minimal lost production and temporary air frustrations. 
Stock available includes single and two stage rotary screw models with Permanent Magnet and variable speed technologies, tank mounted Scrolls as well as reciprocating units. The company has also stocked up on system ancillary components including air receivers, refrigerated dryers and coalescing filters to provide complete systems and turnkey solutions.
All Kaishan machines are supported by extended warranties including a lifetime airend warranty on the premium krsp range.
Right around Australia, inventory has been distributed to the Kaishan national network to ensure customers the shortest possible delivery times.
According to Fergusan "The support from our global manufacturing group in overcoming supply issues puts us in a very strong position to cater to growing demand. This is an exciting time for Kaishan Compressors as we now have machines and system components in stock exclusively for Australian industry."
He added that Kaishan's national service division provides full support infrastructure 24/7 to enable all air compressors to be correctly commissioned and maintained to maximum reliability and efficiency. 
Custom Compressor for specialised applications
Along with the development of new energy saving compressor technologies, air has now become a highly viable form of power generation for the aquaculture industry.
The development of specialised anti-rust and anti-contamination marine coatings plus fully sealed, stainless steel cabinets means large scale, industrial  compressors can now operate continuously and efficiently in extremely harsh marine environments. 
Variety of applications
Kaishan Australia is currently commissioning 22 new compressor units to be employed for a wide variety of ocean and land-based applications in the Tasmanian salmon industry. They will replace the current Kaishan diesel compressors that have been in service for over three years bringing advanced efficiency and higher capacity to the operations. 
These highly specialised, energy saving compressors are designed and built to operate remotely 24/7. Utilising Kaishan's advanced Permanent Magnet and 2-stage technology, the compressors will be operated, managed, and monitored via 4G and wireless network from any remote location.
Six of these specialised compressors will be diesel powered and operate from marine based barges controlling feeding, fish recovery and other remote functions from multiple sea pens. The compressors and component systems are made to operate in gale force winds and stormy seas.
Variable speed and flow technology allows the compressors to operate at the required output for any application demand at any time, meaning there is no excess or wasted energy use and the exact pressure is generated to match real time needs.
Whilst compressed air has been used in aquaculture applications for many years, it is due to recent advances in compressor technology and engineering that the true value is being realised.