BIG AIR MOVEMENT IMPROVES SAFETY, COMFORT AND PRODUCTIVITY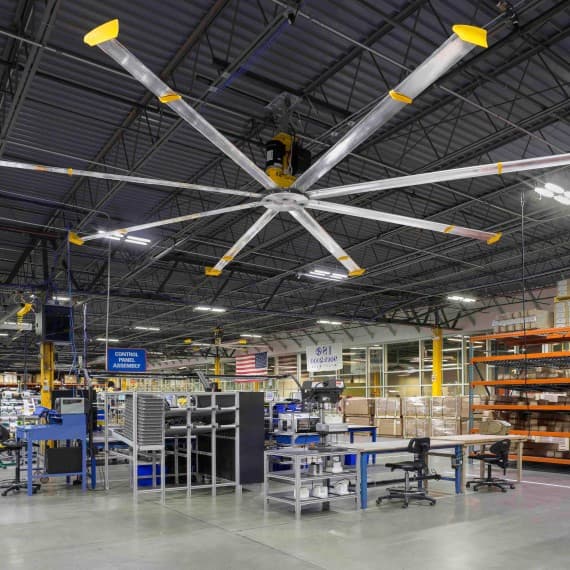 Employees in industrial settings such as manufacturing facilities, factories and distribution centres are often forced to work in conditions that are hot and uncomfortable and sometimes can compromise their safety. For those kinds of facilities, unfortunately, air con can be out of the question because of sheer size and expense, and soaring temperatures, along with stagnant air, are frequently the norm. As a result, workers are not only put at risk but are also less productive.
Hot and humid working conditions not only influence unproductive behaviour in the workplace, they can also lead to serious heat-related illness. In February 2019, Work Cover Queensland received a claim from two workers who were hospitalised after suffering from heat stress in the workplace at only 32°C.
Safe Work Australia states that improving airflow by installing fans is one of the key steps a company can take to ensure a safe working environment.
Fortunately, for management and employees alike, the airflow pattern of an energy-efficient high-volume low-speed (HVLS) industrial ceiling fan can have a huge impact on the safety and comfort of workers. It improves air quality and creates a significant cooling effect where air con is not an option. And in facilities that do have air con, it can work in tandem with the system to create greater energy savings by allowing the thermostat setpoint to be raised several degrees.
Big Ass Fans reckons its large-diameter HVLS ceiling fans pay for themselves many times over by boosting air quality, and improving worker safety and comfort year round. And when they're installed in an industrial setting, everybody wins, because studies show that when workers are comfortable, not only are they safer — they're also more productive.
Big Ass Fans
1300 244 277
bigassfans.com.au