BEWARE: Employers and workers at serious risk without certified welding safety helmets
31-08-2010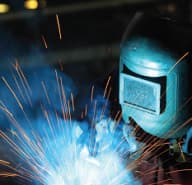 A welder's job is not an easy one – and it can be highly dangerous.
It's therefore vital for all welders – both in the workplace and home environment – to ensure they are well protected.
An estimated 1300 workers are injured in welding related incidents in Australia each year.
According to Worksafe VIC, in 2011 alone, 363 tradespeople employed in welding related industries in Victoria lodged compensation claims as a result of workplace injuries.
But incredibly, there are no laws in place in Australia preventing welders from using sub-standard equipment that does not meet current Australian/NZ safety standards.
And even more incredibly, there has been virtually no effective education campaigns conducted in Australian workplaces to highlight the dangers of wearing sub-standard equipment.
So it's a case of BUYER BEWARE.
The onus is on the end-user – the welder – to ensure they are wearing helmets that meet the highest possible standards. Purchasers can ensure they are buying maximum protection byinsisting that the helmets they purchasenot only comply with current standards but are also CERTIFIED.
An investigation by Industry Update has found there are several helmet models now available in retail outlets that do not meet those strict standards.
Responsible employers should always look for welding helmets and personal protection equipment (PPE) carrying the highest possible standard approvals to protect workers.
However, there are some employers who are driven by price. They choose cheaper models that may not be standards approved. 
Lyn Watt, marketing manager for global safety solutions leader Honeywell Safety Products, says employers should supply their workers with standards approved products and employees should be asking for them.
"Most responsible companies look for product with AS/NZ certification clearly marked on it, says Ms Watt. "That way you ensure your workers are getting the best and safest equipment available."
Ms Watt says there are many welding helmets now being sold on the Australian market that don't have AS/NZ approval.
And companies that purchase products that are not standards approved increase the risk of both injury to employees and prosecution by the relevant safety authority.
"If an employee is involved in a workplace accident, one of the first questions asked is whether or not they were wearing a standards approved product."
Daniel Ritler, the Chief Executive Officer for Optrel, a world leader in welding protection equipment, agrees.
"Our research has shown that some helmets now being sold in Australia do not meet the highest safety standards", he says.
"Some may comply with European safety requirements – but not Australian."
Mr Ritler says welders using equipment that does not comply to Australian safety standards are exposing themselves to a high risk of injury.
Distributors and end-users have an obligation to ensure welding safety products comply with the highest Australian safety standards.
Mr Ritler says all Optrel welding helmets are subjected to stringent and thorough safety testing at the company'splant in Switzerland and are approved to international safety standards. Every  cartridge is thoroughly tested to ensure it meets all standards approvals.
"What sets our products apart from our competitors is our High Impact Capability, Mr Ritler says.
The High Impact Capability relates to the helmet shell and safety lens – both vital components for worker protection.
"If a grinding disc breaks it can enter the safety lens causing severe injury, says Mr Ritler. "If a helmet has a High Impact Capability, it is the best protection you can have from this type of incident."
BOC Ltd is another company that prides itself on welding safety.
Senior BOC sales executive Rosalinda Willcox says its Weld Guard helmets are certified according to Australian standards.
Ms Willcox expressed concern that there are helmets being brought into thelocal market that "may comply but are not certified" to Australian Standards.
"Any person using a product that is not certified is always running a risk that the product will fail as it has not been tested, she said. "This is why Standards are set in place, to help protect workers from injury." 
Ms Willcox says when choosing personal protection welding safety equipment companies should ensure a risk assessment is conducted covering work practices and PPE required to protect the person performing the task.
"When using PPE make sure it is fitted properly and that the user is trained appropriately in the correct maintenance and use of the product," she advises.
Mr Les Cameron, Senior Inspector (Health & Safety Operations) Worksafe VIC, says Australian workers are risking serious injury by using welding helmets that are not certified or do not conform to current Australian/NZ safety standards. (Eye protection: AS/NZS 1338.1 Face protection: AS/NZS 1337.1) This may include welding flash to eyes, objects in eyes, loss of eyesight and airway burns.
In a workplace injury everyone – not only the employee – gets hurt, Cameron says.
Serious injury also affects employers with the loss of a valuable employee and the injured employee's family. Other flow-on effects include possible increases in insurance premiums, loss of production and the dilemma of having to find replacement employees.
Mr Cameron says Worksafe VIC conducts regular spot workplace checks in that state to ensure employers/employees are complying with safety regulations – often targeting specific industries or suburbs and towns.
Mr Tony Pham, Arc Equipment Brand Specialist with global brand Cigweld says in his view Cigweld welding helmets sold in Australia all comply with major industrial Australian and NZ safety standards.
"Our Cigweld WeldSkill Autodarkening helmets have been tested and certified by ORLAB at the University of NSW.
"Our new four sensor helmet that will be coming out has also been tested and certified by ORLAB."
Mr Pham is aware of other helmets now available in Australia that do not comply with AS/NZS standards – only ANSI and CE international standards.
He warns workers that if safety equipment does not comply with appropriate standards they are putting themselves at risk and in some cases they should not be allowed on the work site.
Industry Update is urging state safety authorities to conduct extensive education campaigns Australia wide to inform employers and workers about the importance of buying standards approved equipment.
While the onus is on the employer to select standards approved PPE and the end-user to wear that equipment, manufacturers also have an obligation to clearly display standards approvals.
By clearly displaying safety standards, companies are not only promoting safety and quality, they are also demonstrating transparency and confidence in their products.
Every Australian worker has a right to know.
Industry Update cannot express strongly enough that helmets should not only comply but should also be certified to ensure maximum protection.