BEVERAGE GIANT TO SHARE RECIPE FOR SUCCESS AT NMW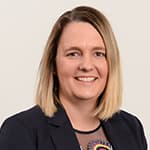 Anna Reid is General Manager of Manufacturing at Asahi Beverages
Ahead of National Manufacturing Week in Melbourne, Asahi Beverages has shared its recipe for success, having recently been named as one of Australia's Top 100 Manufacturers for 2019, and who will have a presence within this year's NMW conference programme.
With Australia's $383.2 billion manufacturing industry, which employs over 791,000 Australians, projected to achieve an industry growth rate of 1.2% over the next five years to $405.8 billion in 2023-24, companies like Asahi have an opportunity to build on existing successes.
As a major food product manufacturer, and one of 17 that made this year's Top 100 compiled by IBISWorld analysts, Anna Reid (General Manager of Manufacturing of Asahi Beverages) explains that building a smart value chain is key to success.
"We are proud to be manufacturing in Australia and manufacturing some of the nation's most loved brands, including: Schweppes, Solo, Asahi Super Dry, Pepsi, Gatorade, Cottee's cordials, Spring Valley, and Vodka Cruiser," says Reid. "Although we are a relatively young company, having been formed in 2014, we have a rich history through our various integrated businesses, which have been acquired by Asahi Group Holdings.
"We have taken a mature journey approach, with a focus on building strong foundations to leverage future development of our operations. This involved developing an adoption plan across our supply chain, looking beyond technology to new skills and IT infrastructure, while working to strengthen existing processes to support reliability.
"Major technological innovations are fuelling significant change throughout the world, with the manufacturing industry embracing the inter-connectivity of new and emerging technology or smart manufacturing and Industry 4.0.
"At Asahi, we've been building a strong collaborative partnership between our business' information technology and operational technology functions to ensure we have the right infrastructure backbone. We've also focused on digitising our factories in a structured way to achieve data standardisation and optimisation, which offers real-time analytics.
"Additionally, the agile learning approach we've adopted, focusing on process improvement and deliberate experimentation, coupled with embedding a problem-solving mindset amongst our employee base, have also been key contributors to our success."
"Building a smarter value chain" by Anna Reid and Dr Lucy Liu will be presented in the Industry 4.0 Theatre at National Manufacturing Week at 11am on Friday 17th May.