BESTECH OFFERS NEW PRESSURE SENSOR INTERFACE
03-03-2015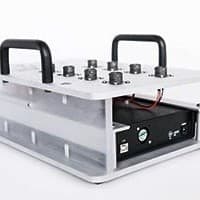 Additional hardware is required for interface-connect sensors, which are composed with data acquisition to acquire and send measuring data to your PC for further process in analysis software.
Bestech Australia is now offering the USB2251 Pressure Sensor Interface providing real-world data acquisition with optional YT and XY graphing capabilities via USB port.
Up to eight calibrated variable reluctance pressure sensor inputs are accepted by the device with no external signal conditioning required. Connector Panel is included for easy sensor connections. 
USB 2251 Pressure Sensor Interface can take readings up to 5000 samples per second. Combined with the fast response of the Validyne VR pressure sensors, the USB2251 is ideal for transient pressure studies.
Features include:
·       Calibrated Pressure Sensor Input 
·       No External Signal Conditioning Needed 
·       Sensor Excitation Included 
·       Works with Visual Basic
·       Connector Panel Included
Bestech Australia
Ph: 03 9540 5100