Best of both worlds with new FLIR camera
31-08-2010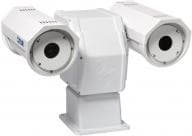 Multi-tasking in the workplace is now spreading to technology. 
FLIR's new range of A310 cameras can be used for both temperature monitoring and security applications – two jobs for the price of one.
So now you can monitor your equipment and protect your perimeter – using just one camera.
The FLIR A310 f and FLIR A310 pt thermal imaging cameras are dual use systems – temperature monitoring of critical installations and perimeter security. 
They can be installed almost anywhere to monitor critical equipment and other valuable assets. They will safeguard your plant and measure temperature differences to assess the criticality of a situation. 
Problems can be identified before they become costly failures, preventing downtime and enhancing worker safety. The cameras can also be used for security and surveillance applications. With a FLIR thermal A310 pt the operator can monitor the perimeter security continuously, while equipment in the field of view can be monitored at the same time. 
At selected times, the A310 pt can also quickly audit temperatures of equipment in other locations, then return to the main task of security monitoring. 
A fixed A310 f camera can also perform both functions simultaneously. 
Other applications include:
Power generation and distribution
Sub-station monitoring
Critical equipment monitoring
Natural gas processing, transport and storage
Fire prevention in waste storage areas
Flare detection
Fire prevention in wood and coal piles 
FLIR A310 f is Ethernet/IP and Modbus TCP compliant which allows for easy sharing of analysis, alarm results to PLCs. It contains images masking functionality and is Powered over Ethernet (PoE).
FLIR Systems Australia Pty Ltd 
Ph: 1300 729 987