Published 11-08-2020
| Article appears in August 2020 Issue
BENTLEY GROUP INVESTS IN VERSATILE ALL-ROUNDER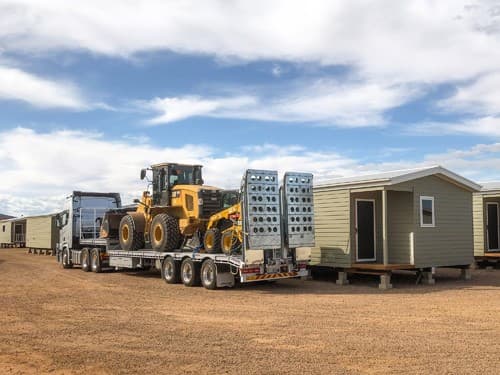 In the wake of its Port Pirie success, Bentley's Cabin Parks will soon open its new fully self-contained accommodation park at Port Augusta.
Part of the Bentley Group, the cabin park division was established in 1995 when founder and managing director Hayden Bentley, inspired by his travels around Australia with his family, set up four cabins.
Bentley Group is a diversified business involved in farming, hospitality and construction. The new cabins for the Port Augusta site are being built at the company-owned construction yards in South Australia.
To transport the cabins, Bentley invested in a new Freighter Drop Deck Semi with ramps from MaxiTRANS.
"We'd previously bought aluminium tippers from MaxiTRANS, so in February we picked up a new multi-purpose Freighter Drop Deck semi-trailer," he says.
Bentley had the trailer purpose-built to handle the one- or two-bedroom trailers in need of transportation. The semi's bi-folding ramps were made removable to make it easier to load and unload the cabins.
"We even had it colour-coded to match our new prime mover so it looks nice on the road as well," Bentley says.
Although the semi was made to suit Bentley's Cabin Parks' specific purposes, it doubles as a general-purpose trailer.
As a result, it will also be used to transport various types of loads including heavy machinery for the company's other farming and construction equipment such as bulldozers, loaders and graders.
The Freighter Drop Deck semi-trailer is capable of delivering low tare weight and carrying high loads, machinery and silage. Featuring Freighter's short, extra strong gooseneck, the Drop Deck Semi can be engineered to optimise pallet capacity and spacing on both upper and lower decks based on specific freight requirements.
The wide spaced main beams combined with low profile frames deliver complete stability and centre of gravity, while the use of durable cross members provides a more robust and reliable trailer.
Bentley chose to include the optional pull-out ramps to allow the load to be driven between the lower and upper decks.
"The quality of the workmanship is fantastic," he says.
"Unlike some of the other trailers with ramps that we've used in the past, the ramps of the new Freighter trailer have shown no signs of rusting or physical damage."
Adding to Bentley's positive experience was the service by MaxiTRANS. Bentley says it's not the first time MaxiTRANS has come through for his company.
"We've had good experiences with MaxiTRANS before; we bought aluminium tippers from them and we've been very happy," he says.
"Given our good experience with MaxiTRANS in the past it was an obvious choice for us to go with them again. We knew we had to stick to what we trusted and what we knew, so going with the Freighter Drop Deck Semi was an easy decision."
Bentley says his almost decade-long relationship with MaxiTRANS will continue based on his experiences.
"We've been using products from MaxiTRANS for nearly 10 years and it was good to work with them again. They made the trailer exactly how we wanted it, and the finished product is excellent – they thought of everything and finished on time," he says.
"We trust Australian manufacturing and we like quality. We also understand that cheap is not always the best, so we're willing to pay for quality."
For more information about MaxiTRANS and its brands, visit www.maxitrans.com.