Belden tightens its security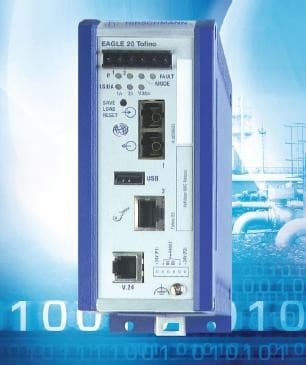 Belden Inc. has purchased Byres Security Inc. to enhance its ability to protect industrial automation systems from cyber attack, enhancing its networking platform.
BSI's award-winning Tofino security technology in particular strengthens Belden's leadership in industrial networking solutions.
Industrial control system and SCADA operators have experienced a wake-up call over the last year with a large number of PLC vulnerabilities disclosed and the Stuxnet cyber attack. There is now high interest in improving cyber security at both the plant and management levels of organisations.
The Tofino Industrial Security Solution is BSI's flagship product. It combines security appliances with loadable software modules to protect industrial networks from external cyber threats and internal network accidents. The technology is designed to be put into service without plant shutdowns and with simple implementation steps.
Tofino Security is used by the process control, SCADA, manufacturing and automation industries. That includes power generation (conventional and alternative), transmission and distribution, factory and process automation, oil and gas, traffic and railway, embedded systems, and manufacturing.
Belden
Ph: 1800 500 775
www.beldenapac.com