BEING TOUGH INVOLVES ASKING FOR HELP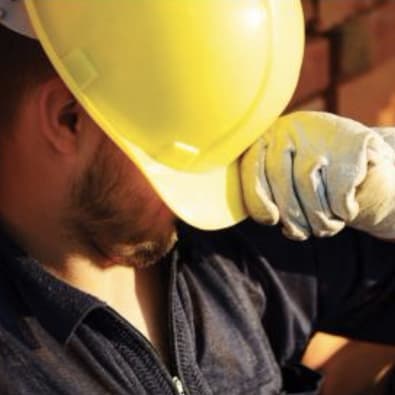 Whether we like it or not, Australian manufacturing has traditionally been a male-dominated industry. And while, as you will read inside the November issue of Industry Update, great strides are being made throughout Australian industry to create mentally healthy workplaces, many of the underlying issues relate directly to the very "maleness" of the workforce.
In short: one in eight men will experience extended periods of depression throughout their life, and one in five will suffer from ongoing anxiety. It's clear that these problems aren't being addressed as well as they could be, because in 2015 alone, there were just over 3000 suicides in Australia. 2292 of those deaths were male, which is 8.3 deaths every single day.
Men are often under pressure to 'man up' and stay strong in the face of adversity. Speaking out and 'admitting' that you are suffering from a mental illness can be daunting; many men fear criticism, or being labeled as 'weak'. In physically demanding and male-dominated industries, this social pressure can be intensified many times over.
This peer pressure can also lead some down a dangerous route towards alcohol or drug dependency, creating further issues in terms of workplace safety.
"Men have a greater tendency not to recognise or respond to their own negative emotions or distress, partly due to the stigma associated with 'mental health', which in turn may result in clinical depression," according to BeyondBlue's outreach initiative, Man Therapy. 
Our resolve, in other words, is the very thing that can make us so vulnerable to these illnesses. The expectations of manliness and masculinity we identify with can become toxic demands on our mental health, making it harder to seek help.
This is why, when Greens senator Scott Ludlam spoke publically about taking time away from work to deal with his ongoing anxiety and depression, his words (and the overwhelming support he has received from Parliament) meant so much to men around Australia.
"Friends, I am taking a leave of absence to treat depression and anxiety. These are issues I've been dealing with for a while," Ludlam said on social media.
"I will return to work as soon as I'm able to give the commitment the work demands… I am fortunate to be getting the very best of care from my friends and family, and my health professionals."
His approach is straightforward and simple; Ludlam is seeking treatment for his health in the same way he would with any other illness, and is being upfront about the reasons for his absence from parliament. His actions provide a strong example to those in Australia who have considered seeking some kind of professional help, but put their mental health on the backburner due to social pressure.
The widespread and almost unanimous support he has received is a sign that these toxic expectations of men are beginning to dissipate. People are now, more than ever, realising how important it is to be open and honest about mental health.
It's not just a good idea to get checked out; it's an admirable one. Seeking help, even if it is a one-off consultation, is one of the smartest and bravest things you can do for yourself, no matter how small you think your problem might be.
For those who would like to learn more, Beyond Blue (https://www.beyondblue.org.au/), and its male-targeted outreach programme Man Therapy (https://www.mantherapy.org.au/) are informative and welcoming places to start.