BEGA CHEESE ADOPTS SUSTAINABLE SOLAR-POWERED LIGHTING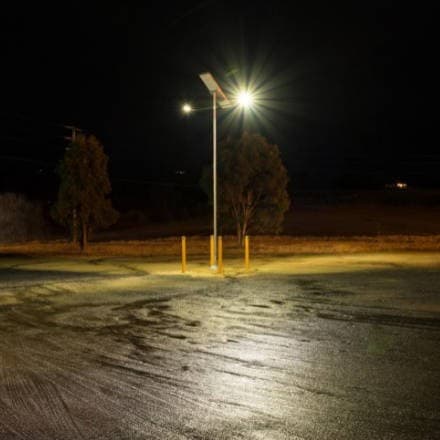 As part of its factory sustainability programme, Bega Cheese Group - one of Australia's largest dairy production companies - explored the possibilities of adopting an environmentally friendly "solar powered" LED lighting system instead of the traditional electrical-powered option. The sustainability programme aimed to introduce initiatives that could reduce energy consumption and carbon emissions, using emerging technologies such as solar lighting, while also reducing running costs.
New lighting was required for the existing external stairwell and carpark area to allow night-shift workers a safe passage to their vehicles, as well as improved car park security throughout the night.
Leadsun solar lights were selected for this project due to two important considerations: solar-powered lighting does not produce any carbon emissions and synergises with Bega's sustainability programme; and, the installation doesn't require any difficult or costly electrical installation works as the areas to be illuminated are (approximately 70 metres) from the electrical switchboard.
Additional benefits of the Leadsun "solar lighting systems" were that they could be installed in a single working day, minimising carpark downtime and not affecting the evening workers. Another innovative and important part of the installation was the EZYfoot concrete-less footing system as it requires only 30 minutes per installation without the ordinary downtime of having to wait for concrete to cure. A further benefit was using the EZYpole lowerable-pole system, which removes the need for any elevating platform or boom lift as all works are carried out safely at ground level.
For reliability and longevity, all of Leadsun's range of solar lights use long-lasting lithium LiFePO4 batteries, and the "all-in-one" construction is sleek and modular as the batteries are enclosed directly under the solar panel. Having the batteries located at the top of the pole avoids problems of battery theft and water damage, which have traditionally been issues with solar lighting systems.
After the site survey was completed, the lighting design assisted Leadsun to determine which system in the range would best suit the application. This system is designed to operate from dusk till dawn with 3 days of battery autonomy, which allows leeway for external factors such as overcast conditions.
Leadsun Australia
1300 281 005
www.leadsun.com.au